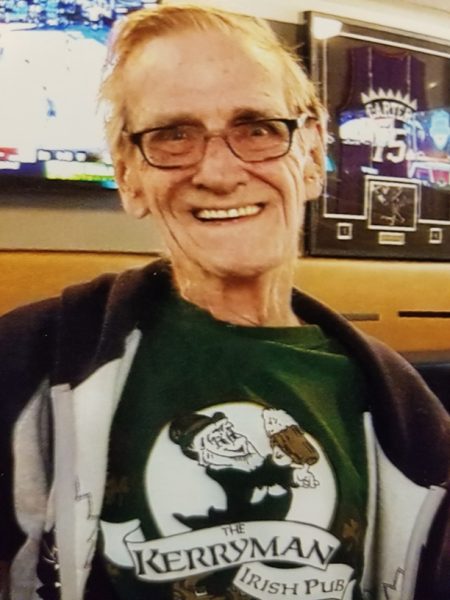 Kerry Ardagh Winters
November 8, 1940 – February 21, 2023
Kerry passed away peacefully at the age of 82, in the beautiful Dorothy Ley Hospice. His beloved Julie was at his side.
Born in Toronto to Charles Edgar Winters II and Jessie "Muriel" Emeline Conn, Kerry was an avid collector. He began collecting beer cans while at U of T. This passion later expanded into sports schedules. An exceptional bridge player, and to say he was an avid sports fan would be an understatement. Kerry was especially happy when Toronto finally got it's own baseball team and has been a fan since day one often taking his daughter to games.
Most Thursday nights you would find Kerry at Metro's (later hosted by Walter and Cathy), while Saturday nights he and Julie could be found playing Trivia at Willy Stouts Pub and Grill.
In addition to Julie Sibbit, Kerry will be greatly missed by his daughter Donna Gutzeit (Adrian), sister Barbie Echlin (Taylor), Nieces Sarah (Beau) and Katie (Jason), Nephew Christopher "CT" (Stef) along with his great niece and six great nephews. Friends and family will be invited to a celebration of life at a later date.
In lieu of flowers, donations can be made to Dorothy Ley Hospice, to whom his family is grateful for such wonderful care.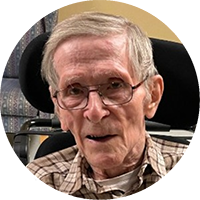 Walter "Wally" William Christie
March 12, 1932 – August 22, 2022
We are sad to announce that on August 22, 2022, at the age of 90, Walter William Christie (Toronto, Ontario) passed away. Family and friends can send flowers and condolences in memory of the loved one. Leave a sympathy message to the family on the memorial page of Walter William Christie to pay them a last tribute.
A funeral service will be held on Sunday, September 4th 2022 from 11:00 AM to 12:00 PM at the Highland Funeral Home "Scarborough Chapel" (3280 Sheppard Ave E, Scarborough, ON M1T 3K3).
My first recollection of Wally Christie goes back to the early 1980s.
He a gentle, soft spoken man and his gregarious spouse Joan were running the Toys for Tots registration table at Molson's Fleet Street Brewery at Lakeshore Blvd W. & Bathurst St. In those days attendance at the John Molson Room could exceed one hundred Canadian Brewerianist members & guests. Vast numbers of toys were donated annually to a local charity such as the Salvation Army with a few speeches thrown in for good measure & the omnipresent Larry Sherk acting as MC. Molson's then a Canadian company offered most generous hospitality with complementary libation & a buffet for the event.
I came to learn quickly that Wally in fact was a long time employee at Molson's Fleet Street but also collected Molson's breweriana. Over time he amassed a spectacular collection of Molson artifacts. Many of the early items figured prominently in Molson's Cheers for 200 Years celebration in 1986.
With the closure of the Fleet St plant in 1990 Wally opted for early retirement. He & Joan moved down to the Niagara Peninsula and lived there for many happy years. As time went on Wally decided to dispense with his collection and had long time collector & trusted dealer Wray Martin handle the sale.
Wally was a fine gentleman and will be missed by all who met him over the years.
Submitted by Gordon Holder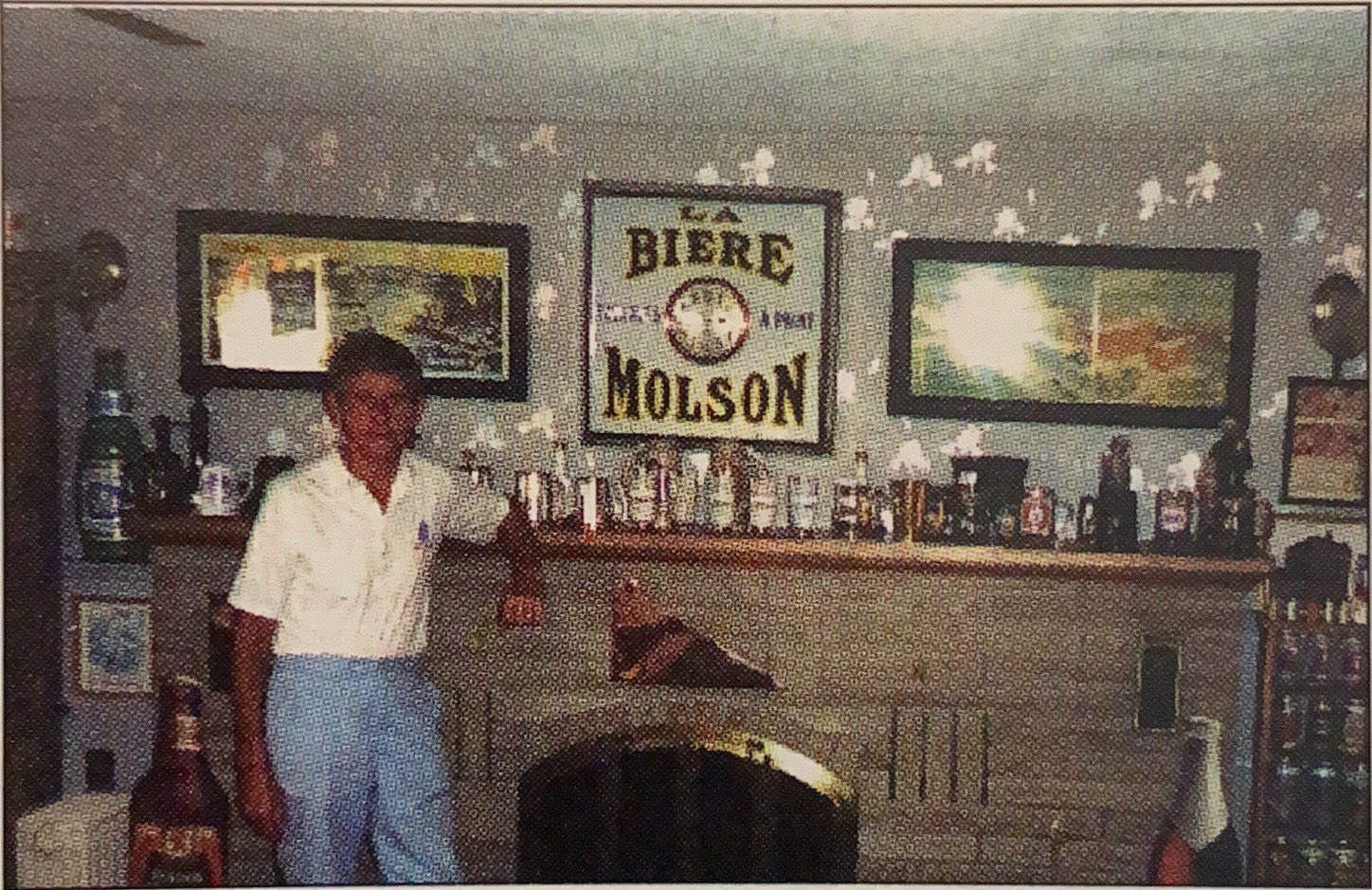 Picture: Courtesy of the Jarzabek Family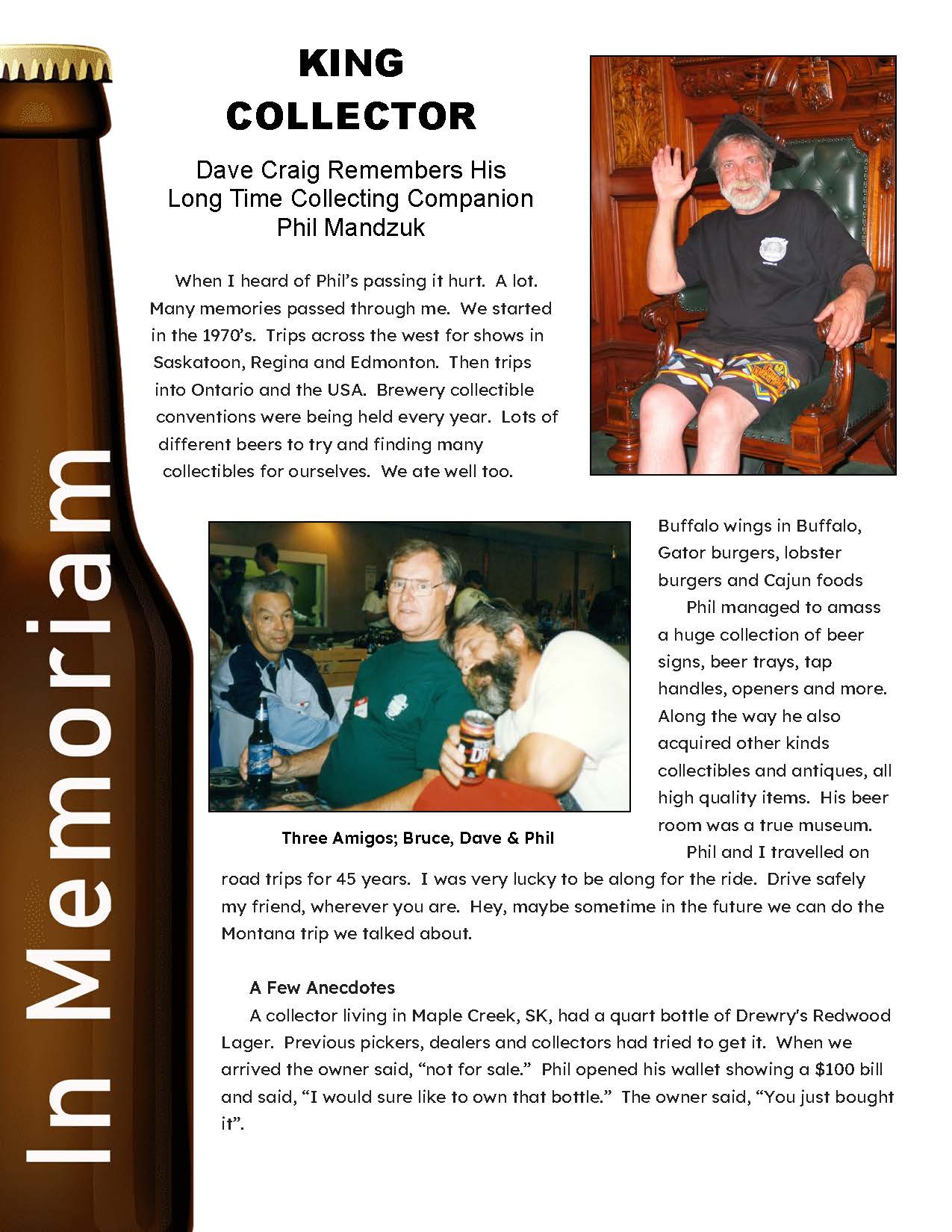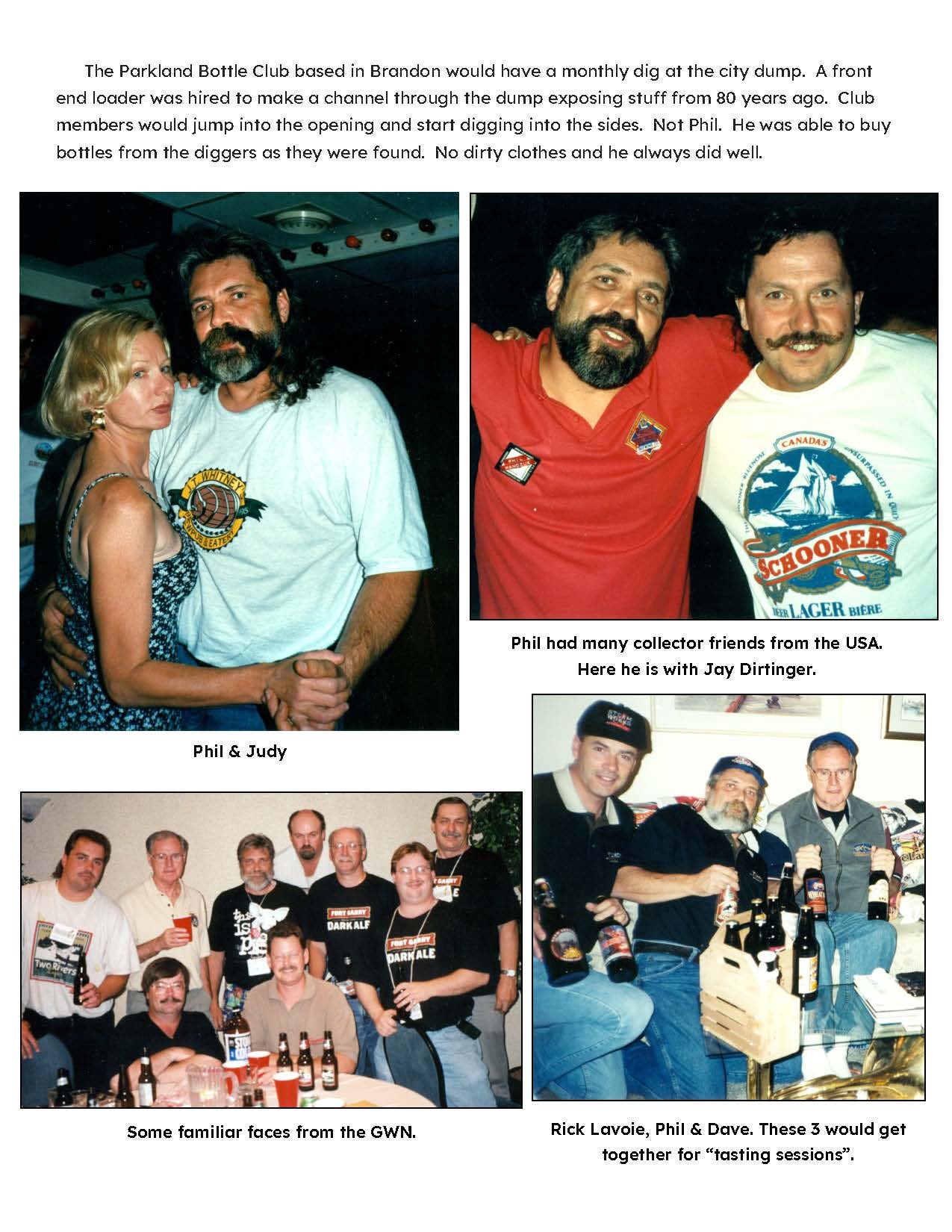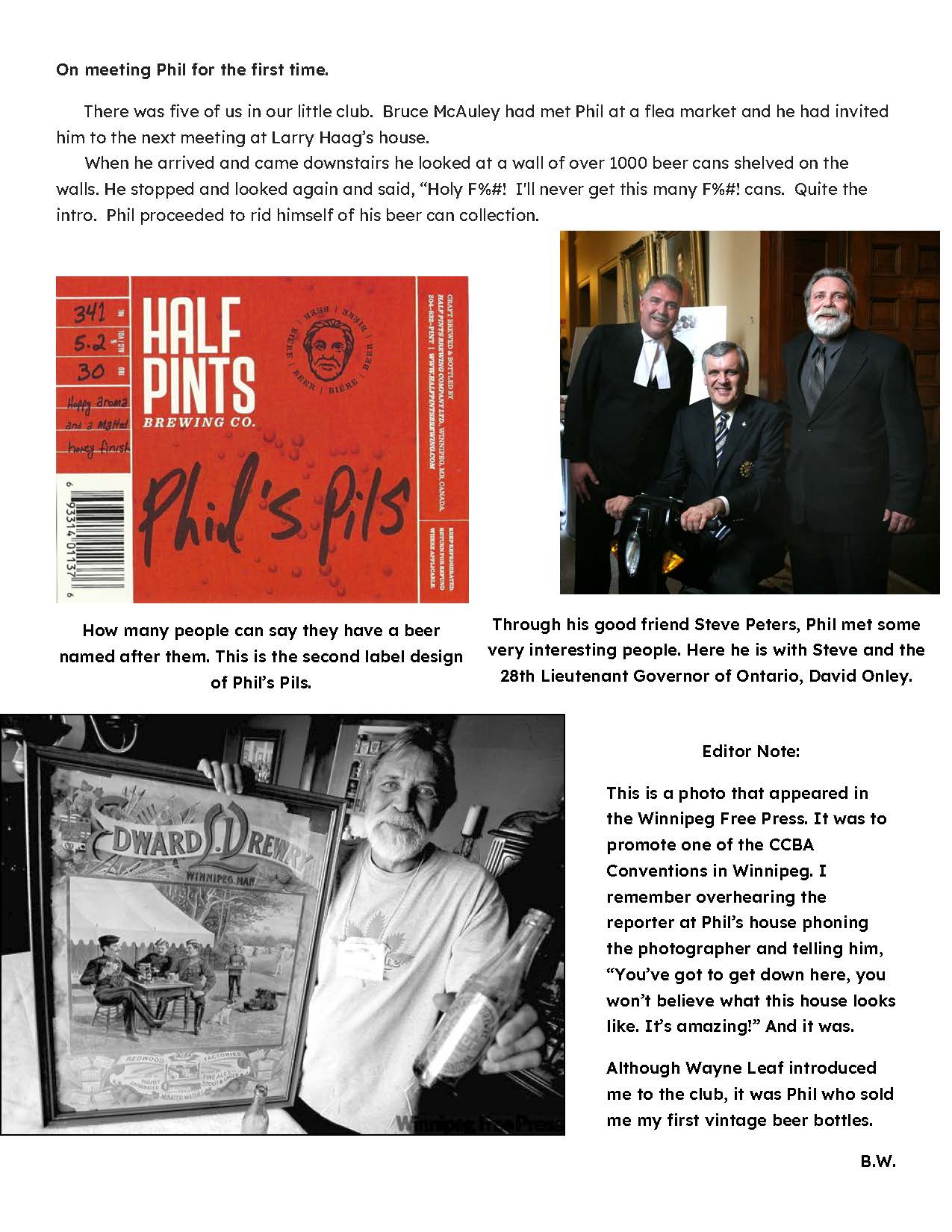 Courtesy of The Great White North Chapter – Winnipeg, Manitoba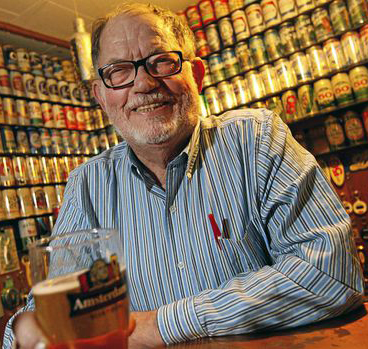 Larry Sherk
Once again, the Canadian Brewerianist family has suffered the loss of one our most influential and knowledgeable members. Larry Sherk, a long-time breweriana collector and C.B. member passed away at the age of 85 on September 4, 2021.
Larry was one of the pioneering collectors of Canadian breweriana and was instrumental in so many aspects of our hobby. He was always active within the various collecting chapters, such as Trillium and Golden Horseshoe, and his enthusiasm for the hobby was passed on to many collectors. One of his key contributions involved the formation of the Canadian Brewerianist organization. The original group of C.B. members came from a list of Larry's Canada-wide contacts. In publishing the newsletter, whenever information was needed about anything to do with Canadian brewing history, Larry was the first person contacted. His wide range of experiences and encyclopedic memory made him the go-to guy for that information. Larry also contributed to our hobby through books and articles. One of the earliest books on Canadian brewery collectibles and history was "The Great Canadian Beer Book", published in 1975. Larry contributed a well researched article on the Blue Top Brewery in Kitchener, possibly his first, but definitely not his last effort. His solo book, "150 Years of Canadian Beer Labels" opened that part of our hobby up to a wide range of people. Larry believed the history of any breweriana item was an integral part of the reason for collecting that item. In that spirit of sharing brewing history, Larry donated his comprehensive Canadian label collection to the Thomas Fisher Rare Book Library at the University of Toronto. His other breweriana items were donated to the Niagara College Teaching Brewery. Larry believed in growing our hobby through fellowship, and to that end he organized many trade shows and charity events. In losing Larry Sherk we have lost an integral thread of our hobby. His friendship, camaraderie and knowledge will be missed by all who knew him.
Submitted by Loren Newman & Phil Greenwood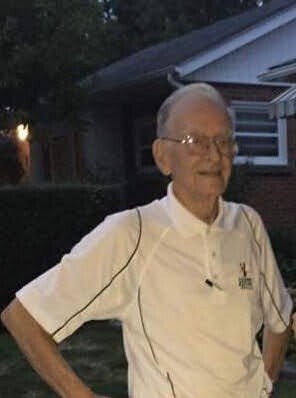 Wray Martin
It is with a very sad and heavy heart that the Canadian Brewerianist family announces the passing of one of our longest and most respected members, Wray Martin of Hamilton, Ontario, on July 29, 2021.
Wray was a member of our organization from it's beginning in 1979 and was a collector long before that; of antiques, advertising, and his first love, breweriana. He made a very successful transition from his "regular" job as a meat department manager at a local Hamilton grocery store to one of the most respected and influential dealers of Canadian nostalgia and advertising in Canada. There are very few collectors of this genre, within or outside of the Canadian Brewerianist organization, that cannot point to an item they have acquired and say, "I got that from Wray". He was known for his quiet demeanor, his unfailing honesty and integrity; and was always willing to share his knowledge of our hobby with anyone who cared to learn. His presence at any nostalgia or breweriana show always made him the "go-to" guy to check with first. He will be greatly missed.
Wray is survived by Lynne, his wife and partner of fifty-two years and by his beloved daughter, Debbie. There will be a celebration of Wray's life at a future date. Canadian Brewerianist members will be notified by e-mail and the CCBA will post the date on their website.
Submitted by Phil Greenwood
Update: There will be a celebration of Wray's life on Wednesday, September 29, from 1 pm to 4 pm. It will be held at the Canadian Warplane Heritage Museum, 9280 Airport Road, Mount Hope, ON, adjacent to the John C Munro Hamilton International Airport.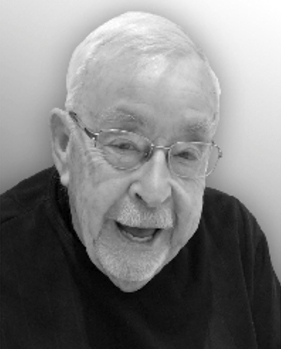 William (Bill) Marentette
William Louis (Bill) Marentette, at the age of 93, passed away on January 21, 2021 at Bluewater Health, Sarnia. Bill lived most of his life in Windsor, moving with his wife to a retirement home in Sarnia in 2017 to be closer to family. Bill was an avid lover of local history, and was a long time member of the Essex County Historical Society. He had a vast collection of artifacts from past local breweries, dating back to the late 1800's. This collection once filled most of his basement, and is now showcased at the Walkerville Brewery in Windsor. He compiled and published extensive research on local breweries, and was a respected member of the Canadian Brewerianist Society. In recognition of his contributions to the historical record of Windsor, he is depicted on a mural off Chatham Street. He has been interviewed by CBC Radio and featured in the Windsor Star. While a lover of the history of the breweries, he also enjoyed sharing a "cold one" with family and friends. Family and friends and all who knew him, will always remember Bill for his friendly and outgoing nature – and his bright smile and often silly remarks that left you feeling good about the day. Excerpt from the Windsor Star.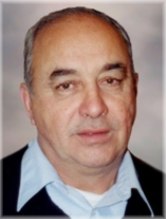 Michael (Mike) Osiowy

November 10, 1934 – June 21, 2021
The CCBA was saddened to hear of the recent passing of veteran bottle collector Mike Osiowy of Scarborough, Ontario.
Originally from Manitoba, he had been a long serving professional transport driver for Carling – O'Keefe Breweries and after the 1989 merger with Molson Breweries.
Mike was very active with the Toronto based Golden Horseshoe Chapter during its heyday and was an important part of several national conventions hosted in the city. He always enjoyed some lively banter and Old Vienna at the monthly meetings at Gennaro's Tavern in Corktown.
Mike loved Canadian beer bottles from the long neck pre-stubby period along with pop bottles & other types of brewery memorabilia.
He manned the table at as many as six different flea markets in the GTA at one time, though most may remember him as a fixture at the Pickering Flea Market. Trading from room to room was his passion at national conventions and the more relaxed Canada's Capital Chapter mini conventions in Gananoque. We hadn't seen much of Mike in recent years as his health began to decline.
The CCBA would like to offer our sincere condolences to his wife Diane and his family.
Submitted by Gordon Holder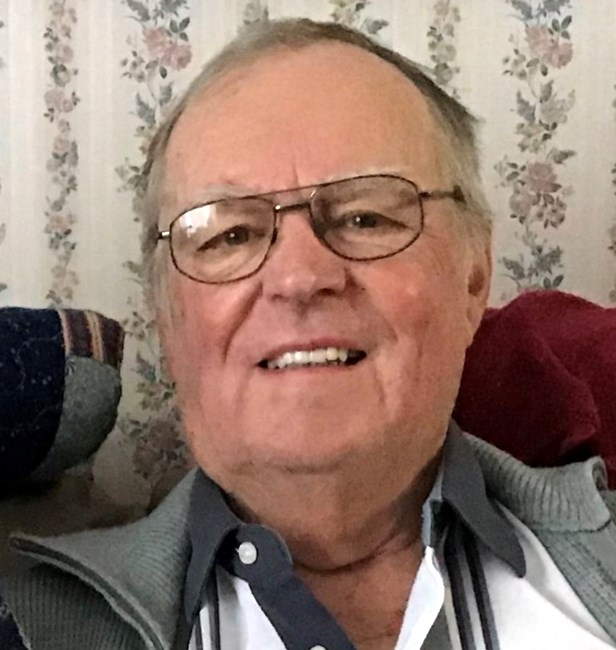 Douglas (Doug) Logan
Doug died at home, with his wife Carolyn at his side, on May 26, 2020 at the age of 79.
Doug enjoyed a 35 year career teaching elementary school. The first 2 years were in a one room school near the village of Mildmay, Ontario. The next 33 were in Peel region, teaching in the senior grades.
Doug loved baseball. Starting in the mid 80's, he made many trips and finally accomplished his goal of going to a game in every major league park. Early in this endeavour, he started collecting beer cans as souvenirs of his trips.
Ultimately, Doug became a member of several beer can collector clubs – Brewery Collectibles Club of America (BCCA) in 1978; Trillium Chapter of BCCA, as a charter member, in 1983; Collectors of Canadian Beer Advertising (CCBA) in 1992 and also Golden Horseshoe Chapter.
In a departure from beer cans, he was also a "Skedder" (sports schedule collector). It became another mission, during his travels, to collect baseball and hockey pocket schedules from major and minor league clubs.
Doug attended his first BCCA Canvention in 1985. At this Canvention, also attended by Peter Lindsay, a travelling partnership was born. From this point on, Doug and Peter attended every BCCA Canvention to date except for one that Doug missed due to his illness. As part of their travels to various states, plans were always made to visit many major and minor league baseball parks and hockey arenas to collect the current pocket and magnetic schedules.
As the craft brewery industry grew across Canada and the United States, Doug and Peter included stops at various breweries and brewpubs along the way. Eventually, Doug completed another collection – a pint glass from every province and state. These are proudly displayed along with his beer cans.
Doug and Carolyn are avid travellers, having visited many countries around the world. Along with visiting the usual highlights at their destinations, Doug was always interested in the local beer cans and craft breweries. The last night of many trips was spent figuring out how to fit the new treasures in the luggage.
Doug's membership in the various clubs and his travels around the world gave him the opportunity to develop treasured relationships with fellow collectors and he always enjoyed his time with them.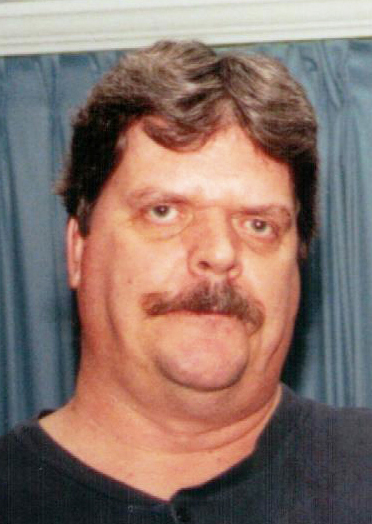 John Arendale
The CCBA was saddened to learn of the death of John Arendale of Davidson, Saskatchewan on April 3, 2020.
Many breweriana collectors remember "Big John" well from various conventions that took place in the prairie provinces over the years.
John started with a keen interest in Saskatchewan beer bottle openers and also built a considerable collection of Canadian brewery tip trays.
In later years he operated a nostalgia & collectibles store and was an active seller on Ebay.
Terrence Paul (Terry) Mitchell

It is with great sadness that we announce the passing of Terrence Paul Mitchell of Winnipeg, Manitoba. Terry passed away suddenly, at home, on September 15, 2019 at the age of 71 years.
Terry leaves behind his wife Inez; children, Cynthia (Ronald) MacEachern and Lowell Miller; and his great pride and joy, his two grandchildren, Megan MacEachern (Bradley) and Erin (Pavel) MacEachern. He was preceded by his parents, Paul and Elsie Mitchell; and his sister Dale Murray.
Terry was a fine man, and we will not see his like again. He had many passions, but his greatest was his long involvement as an organizer and judge of the annual Manitoba First Nations Fire Fighting Competition. He was so honoured to be a part of these events and together with Inez, to have been presented in ceremony a Star Blanket by the Tribal Council this summer. As well, Terry was a President of Manitoba's Great White North Beer Club, was active in the Canadian and American Beer community, and curated a magnificent collection of beer mugs and steins. In past, and for many years, Terry dressed as Santa to visit family and friends on Christmas Eve and share the joy of the season with children, bringing presents and wonder. Terry was a family man, a leader in the community, an educator, a committed volunteer and constant donor to many charities. He lived a rich and full life and he made the most of every day. We will all miss him.
According to his wishes, Terry will be cremated without fanfare, attended only by a small gathering of his family.
His family requests that, in lieu of flowers, donations be made in his name to the Heart & Stroke Foundation of Manitoba.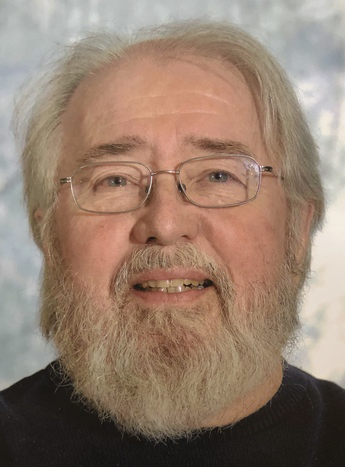 Richard Armand (Dick) Piché
October 1, 1944 – July 29, 2019
In his 74th year, Richard, also known as Dick, passed away with his family at his side, on Monday, July 29, 2019, after a year-long courageous battle with pancreatic cancer.
He was a dedicated husband of his true love, Sharon (nee Klatt) of more than 49 years, loving father of Sarah and her husband Scott (Oakley), and beloved grandad to his precious grandson, Roston (who he adored more than words). He was the oldest brother to Neil (Ann), Ray (Anne-Marie) and Michael of Ottawa, and likely the instigator leading to many family stories.
Dick had a love of all things Breweriana but specialized in local Ottawa Breweriana history, constantly discovering new information and artifacts for his vast collection. A long-time member of Canada's Capital Chapter Breweriana club, he showcased his extensive collection on TV, in print, and in conventions all over North America.
An Alta Vista native, once retired in 2005, Dick and Sharon decided to adopt the slow-life movement in Iroquois, ON where he joined many social clubs such as the Iroquois-Matilda Lions Club, Golden Gears Car Club, and was active in the St. Lawrence Acoustic Stage.
Known for his smile and gift of gab, he will be sorely missed, but always remembered for his commitment to friends, family, his devotion to his local community and for playing a good game of Euchre.
A Celebration of Life for Richard was held at the Royal Canadian Legion Branch 370, 24 Dundas Street in Iroquois on Sunday, August 4th from 1-4pm. A special acknowledgement and remembrance by the Lions Club took place at 1:30pm. A light luncheon and refreshments were provided.
The family wishes to thank the staff of The Ottawa Hospital, The Winchester Memorial Hospital, Saint Elizabeth and LHIN Care Networks, Prince of Wales Manor and all of the respective caregivers and support workers who have touched our family's life. In his memory, donations to the Lions Club or the Regional Cancer Centre https://www.ottawacancer.ca/ would be greatly appreciated.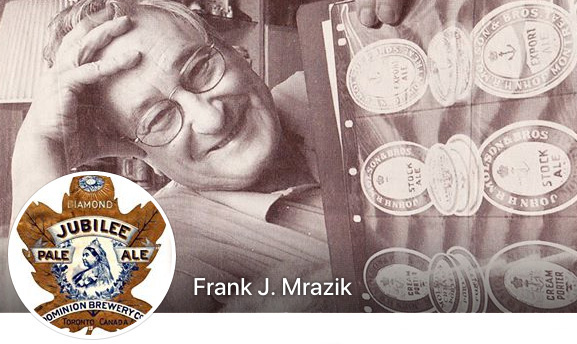 Ferenc J. (Frank) Mrazik
February 19, 1929 – July 25, 2019
Frank was C.B. member #727 who lived in Montreal, Quebec. He was known to many collectors in Canada and throughout the world. Frank began his life-long interest in collecting at the age of five when he was in Hungary. He collected and organized stamps and continued to do this until his passing at age 90. During this time, Frank put together a truly world-class stamp collection.
Frank also collected Meccano (Erector) sets and parts and build some wonderful airplanes in the late 1930s. One of his rooms was his "Meccano" room as it contained models, sets, boxes, ephemera and countless parts.
Also of serious interest was his collection of match boxes and match books. Another wonderful collection from all parts of the globe. Interest in collecting these today is probably not what it was and his collection from the early to mid part of the 20th century is outstanding.
The last area of collecting Frank got involved with was related to beer and breweries. Over the years, Frank had assembled one of the finest beer label collections in the world. His Canadian collection was his main interest for many years. He was also keen on crowns, ephemera, beer coasters and references. He corresponded with hundreds of collectors around the globe for many years. Later in life, Frank was particularly keen in collecting beer coasters – especially from Canada and the USA. Like all of his previous interests, he went about collecting with enthusiasm and dedication.
Many collectors have Frank to thank for the information he provided and the knowledge that he shared over many years. He has contributed to many C.B. members' collections while attending CCBA conventions and through the mail.
Submitted by Mark Armstrong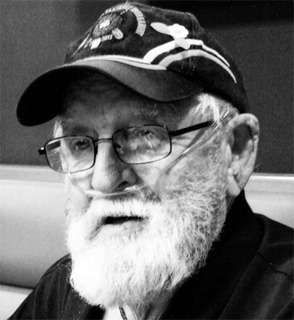 William Walter Harry (Bill) Stevens
1932 – December 7, 2018
Bill Stevens died peacefully, with family by his side, at North Bay Regional Health Centre, on Friday, December 7, 2018. He was in his 86th year. Bill lived in Redbridge a small community just outside of North Bay. I met him in the mid 1990's and traded with him several times. He collected empty bottles and all kinds of beer related items including signs and openers etc. Bill attended a few of the shows in Gananoque and a few other shows around Ontario. Bill was always looking for a deal and seemed to always have a smile on his face and a story ready to tell, he will be missed.
Submitted by Tony Matheson