See terms & conditions under Market Place.
Sellers/Traders please advise ccba.contact@gmail.com when you wish an advertisement to be removed or amended.
• Crown collector looking for trading partners –  Have Canadian trade inventory of 250 different cork lined & 1500 plastic lined crowns from all provinces. WILL SELL.                             
Contact: roncarmstrong21@gmail.com or 705-324-4855
• Vintage Canadian Beer Coasters as a whole or individually. Prices negotiable.              Location: Kawartha Lakes                                                                                             
Contact: roncarmstrong21@gmail.com or 705-324-4855
• To whom it concerns. I'm letting most of my collection go. I regrettably don't have the time or space to continue. I live in the Huntsville area and can provide more information, photos if desired. Bottles, cans, Labels, crowns etc… I would love a passionate collector to take as many items as desired. Very reasonably priced maybe some free. Not looking to make a big cash in. Just would like them passed on and appreciated. Image is a few in my collection.
Cheers Graham Richards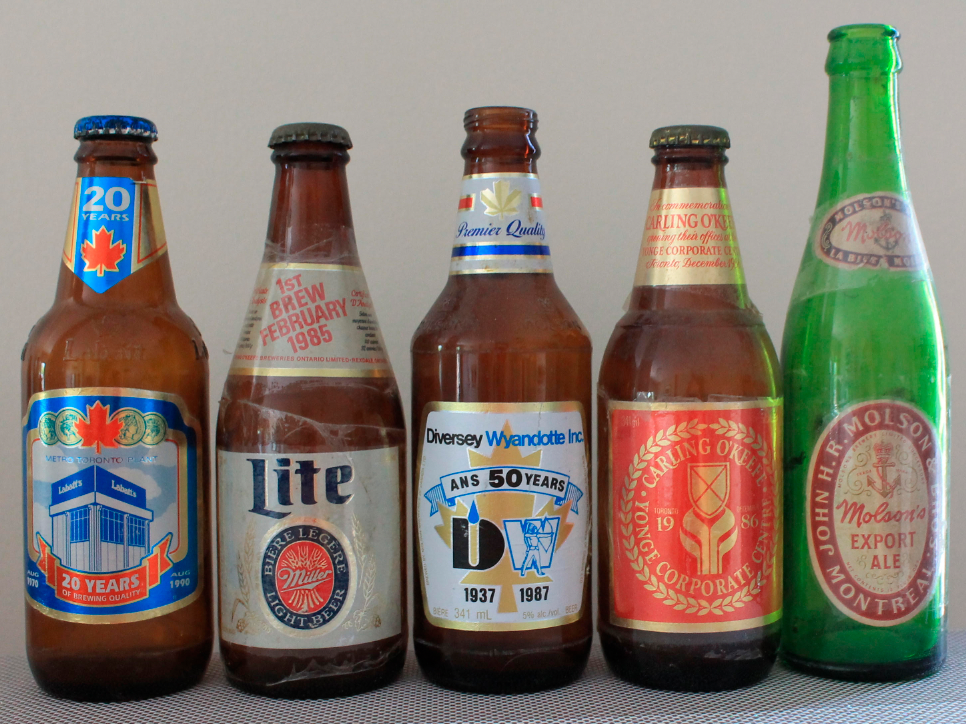 • I have an interesting piece that I would consider selling as I am not a collector of breweriana. It is from Kiewel's Brewery in Winnipeg. It is an advertising piece possibly made from pewter? It weighs just over 18 oz. It stands about 3 1/8" tall and about 2 3/4" circumference at the widest point.
Contact: Ron Bakker stonwerk@shaw.ca
Locality: Alberta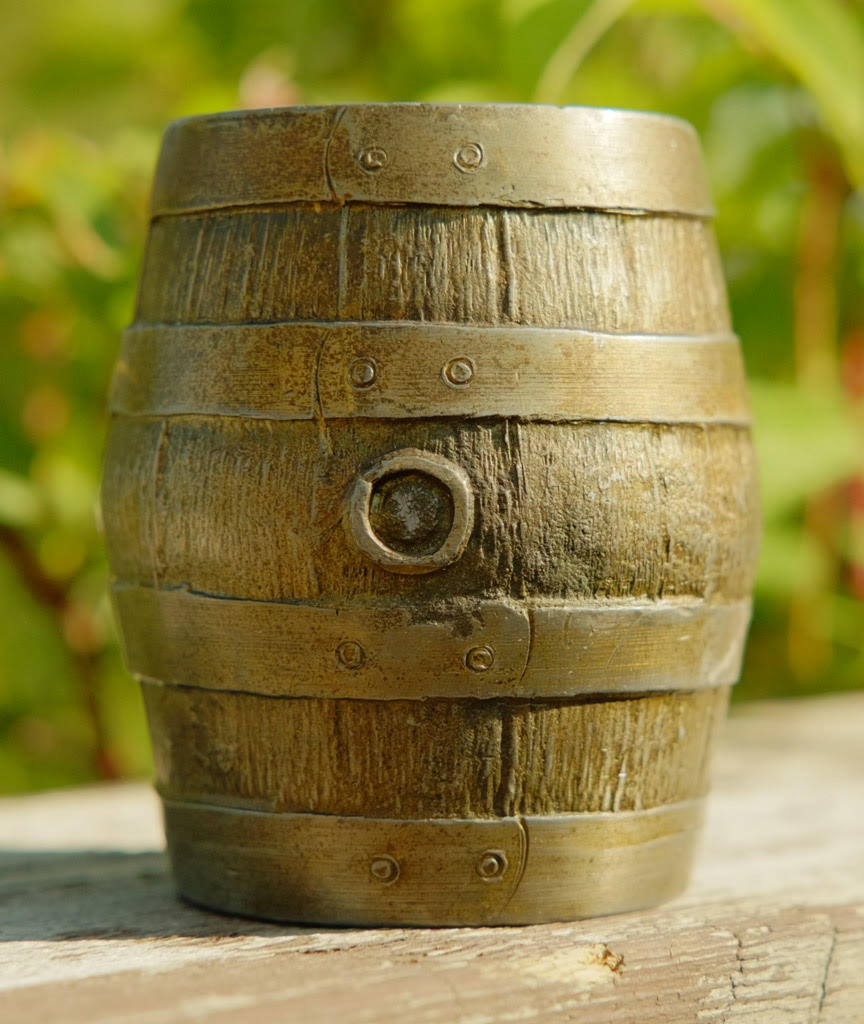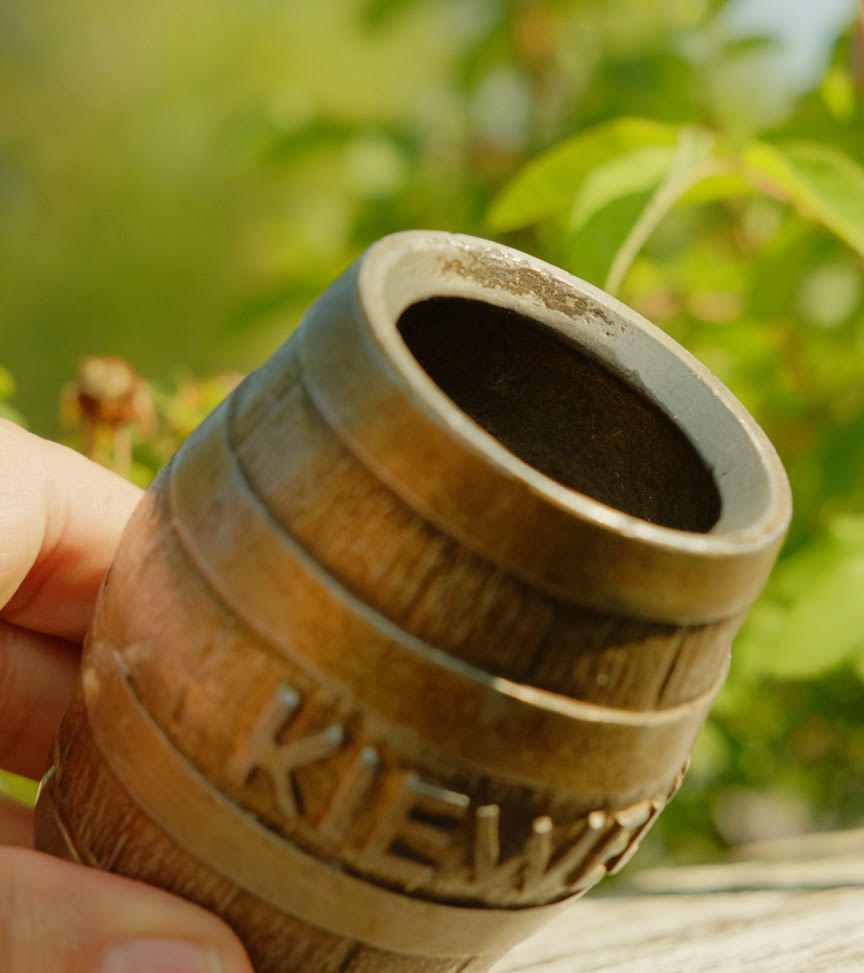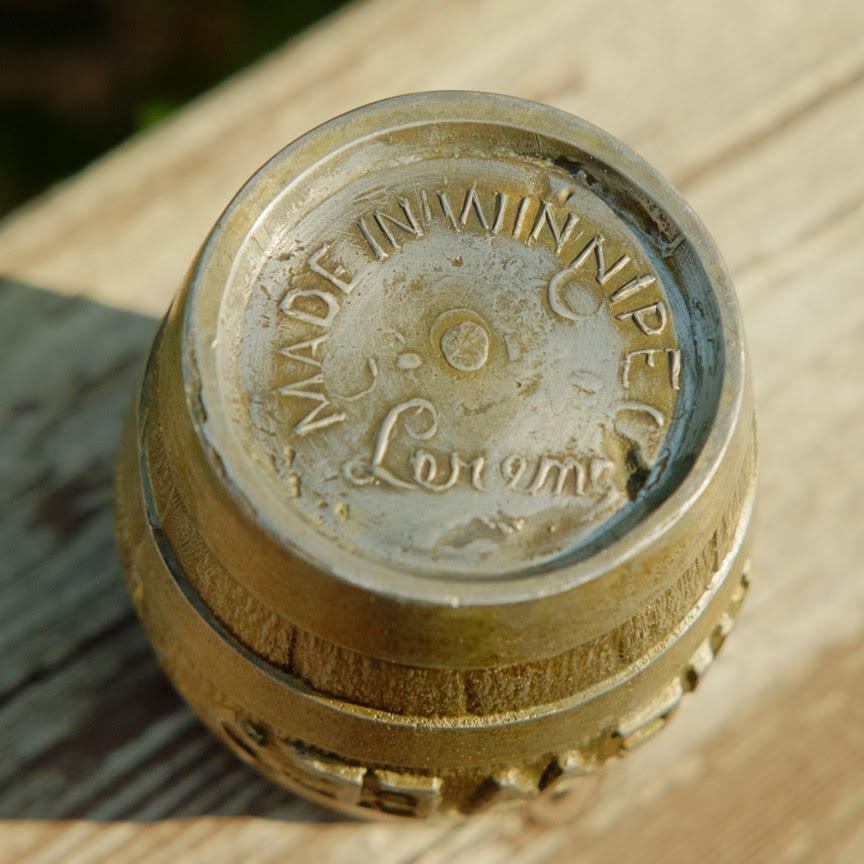 • A previously unknown Carling's London tin lithograph from the Victorian period.
The tin sign is 10 x 14 inches.
Serious offers only.
Andy Cottrell andycottrell@rogers.com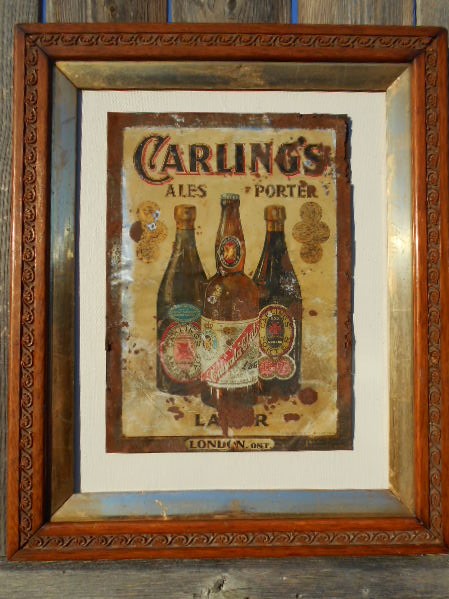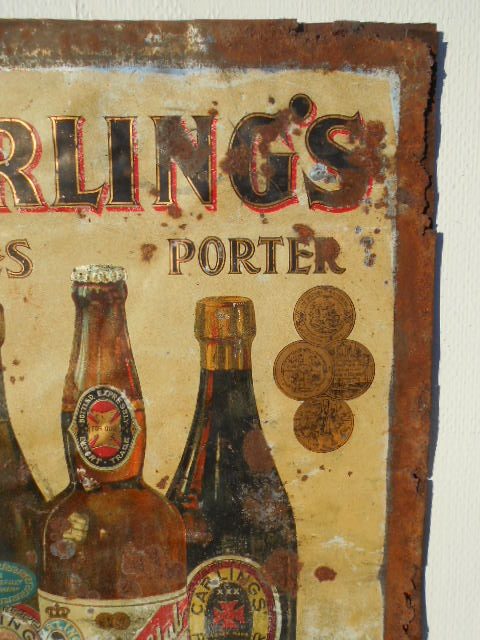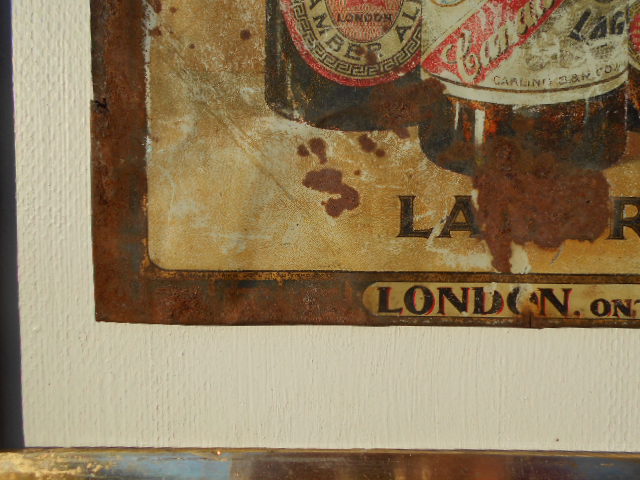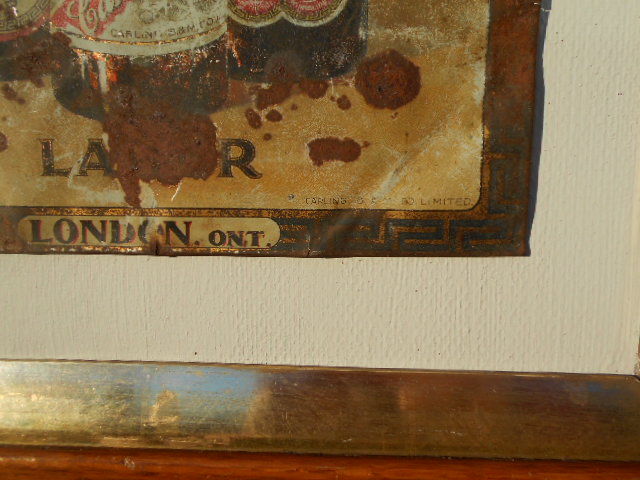 • I have a selection of mostly long neck bottles for sale as a lot but will consider offers.
Locality: Oakville, Ontario
Contact: Cam Brown cambrown@cogeco.ca or 416-301-3797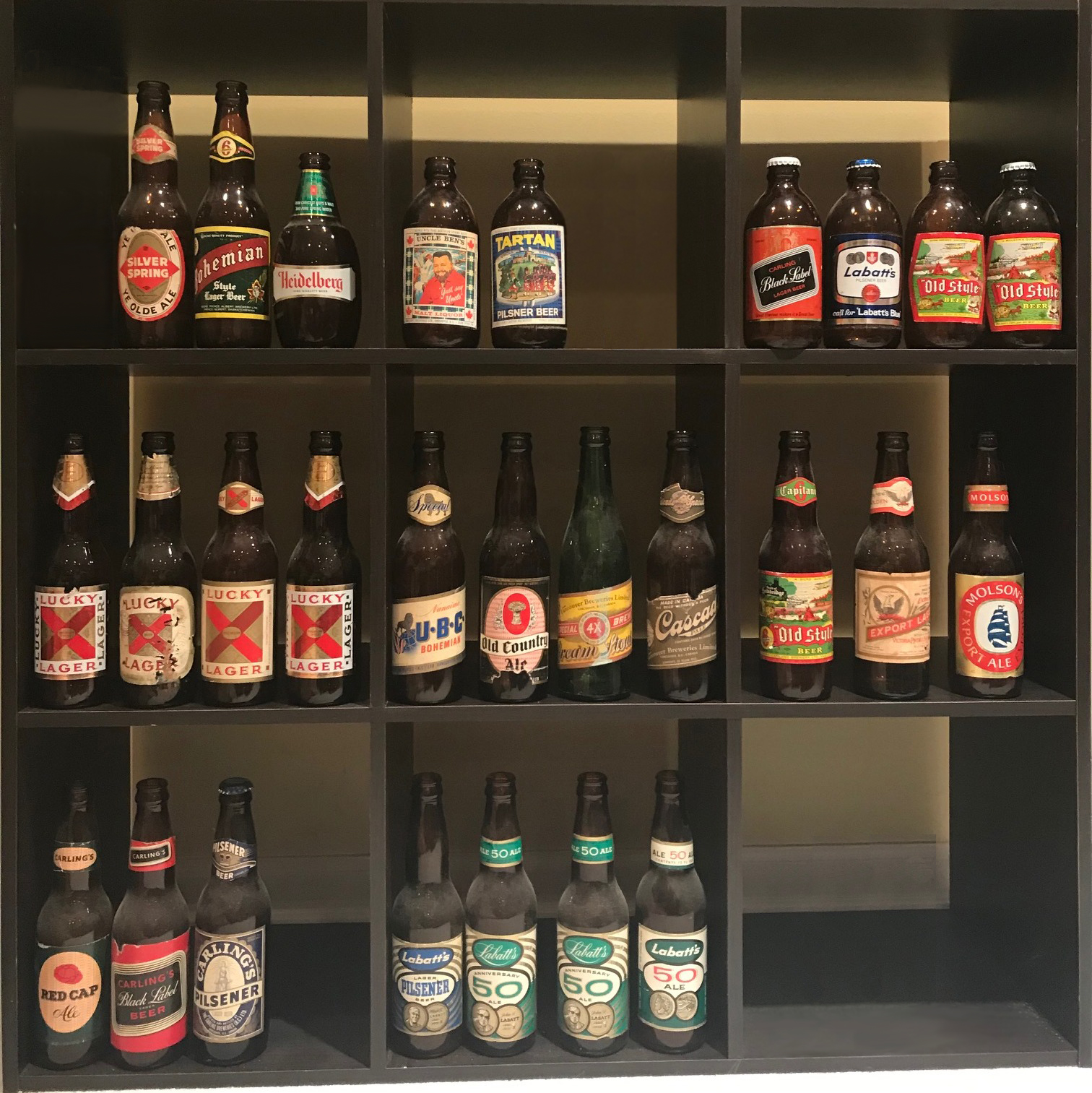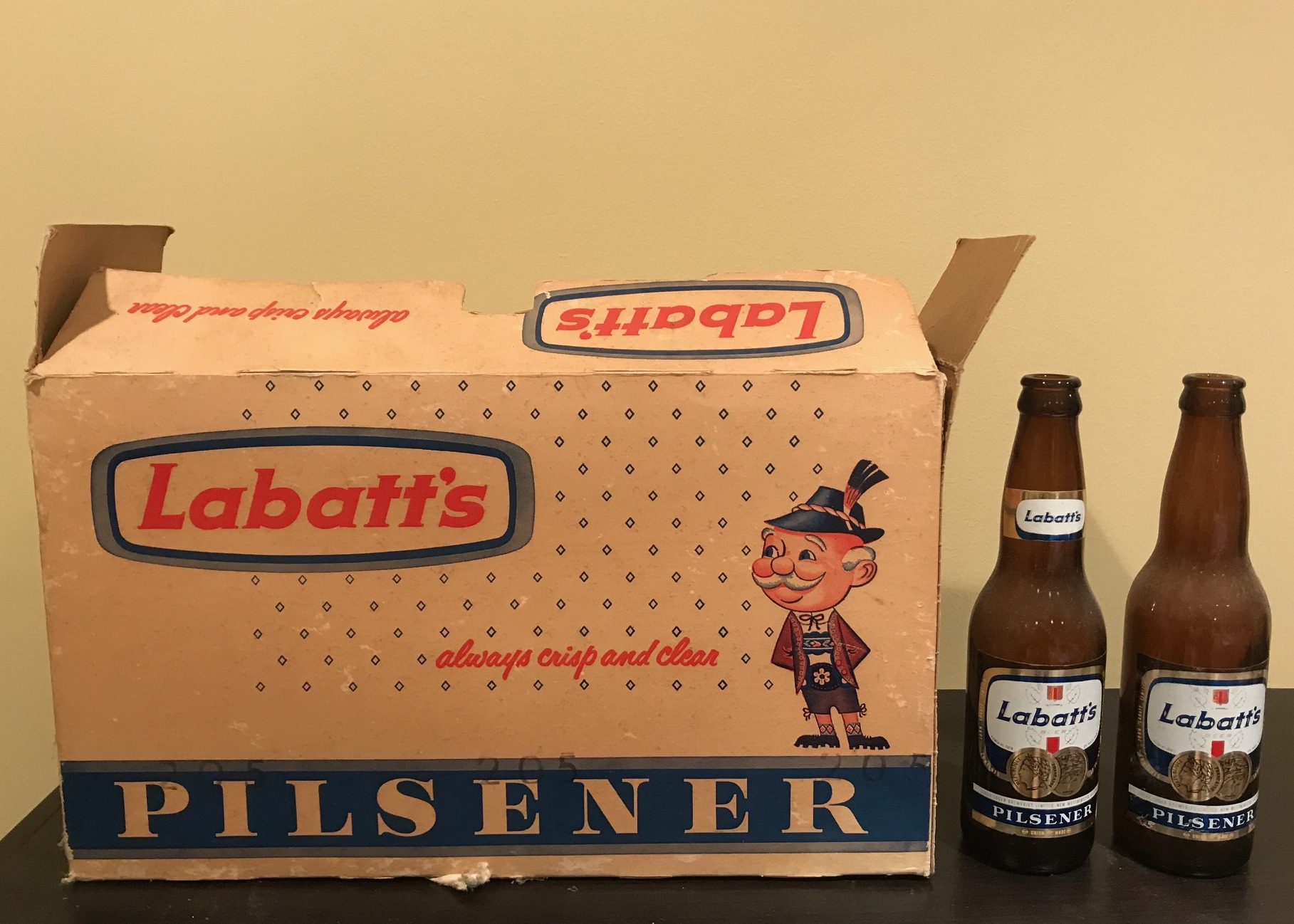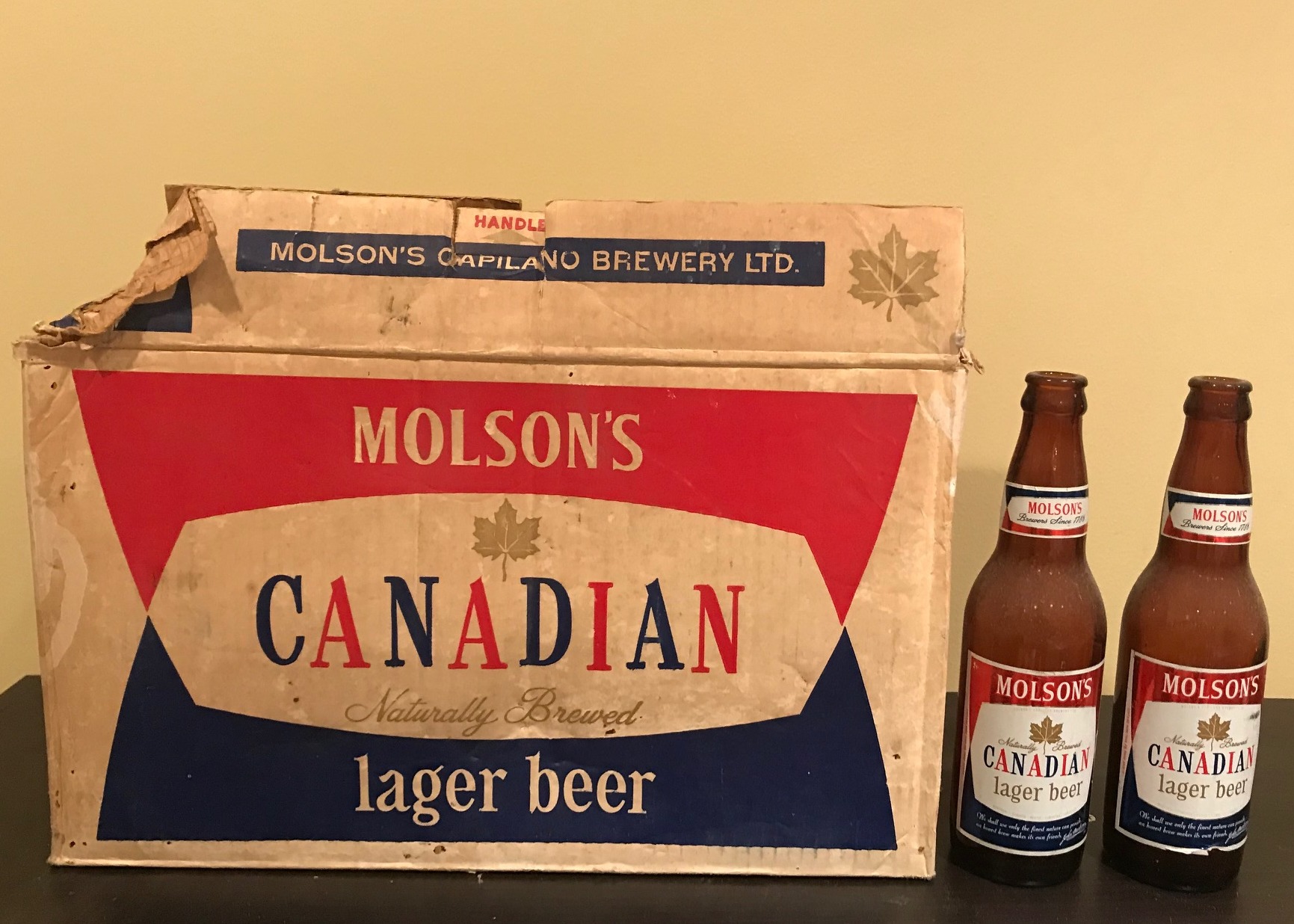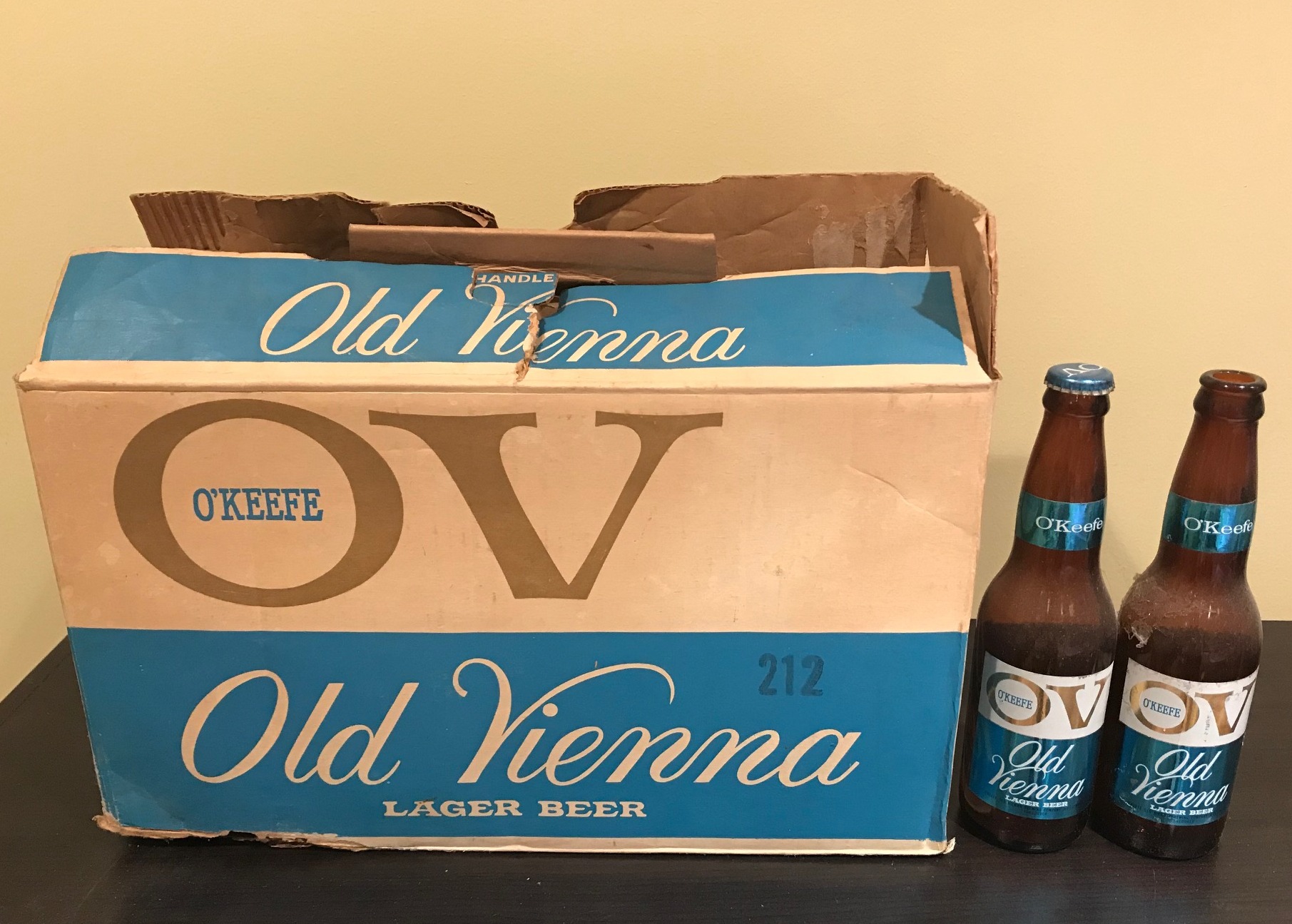 • Hi, its time these found a new home. Leftovers from the 80's … We are south of Ottawa, I thought I would reach out to you and see if any of your collectors would be interested. And yes, they are still full.
Contact: Anja Berends anja@ripnet.com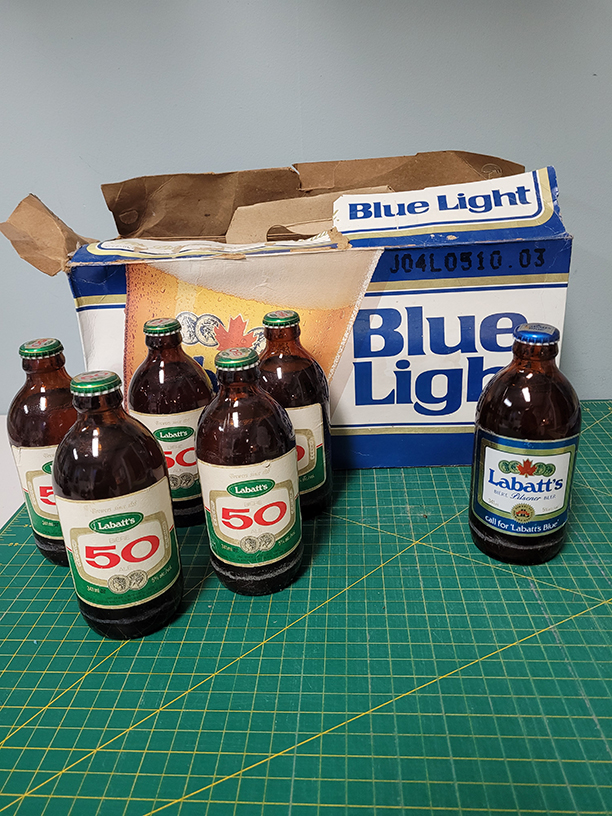 • I have 50 + vintage 70-80s Ontario Beer Store (all brewers) "TV BOX" transparencies for sale….mint condition. 26"x20", a large majority of beer brands are no longer produced. I have a standing offer. Will catalogue all pieces for the serious buyer.
Contact: Al Richardson 141agr@gmail.com
• Older Canadian beer coasters available to trade for older Canadian beer labels or items from Ottawa or Newfoundland breweries. Other older Canadian coasters are available. Get in touch and perhaps I can help with your collection. Would consider selling. Please contact Mark Armstrong at carpe_diem@bell.net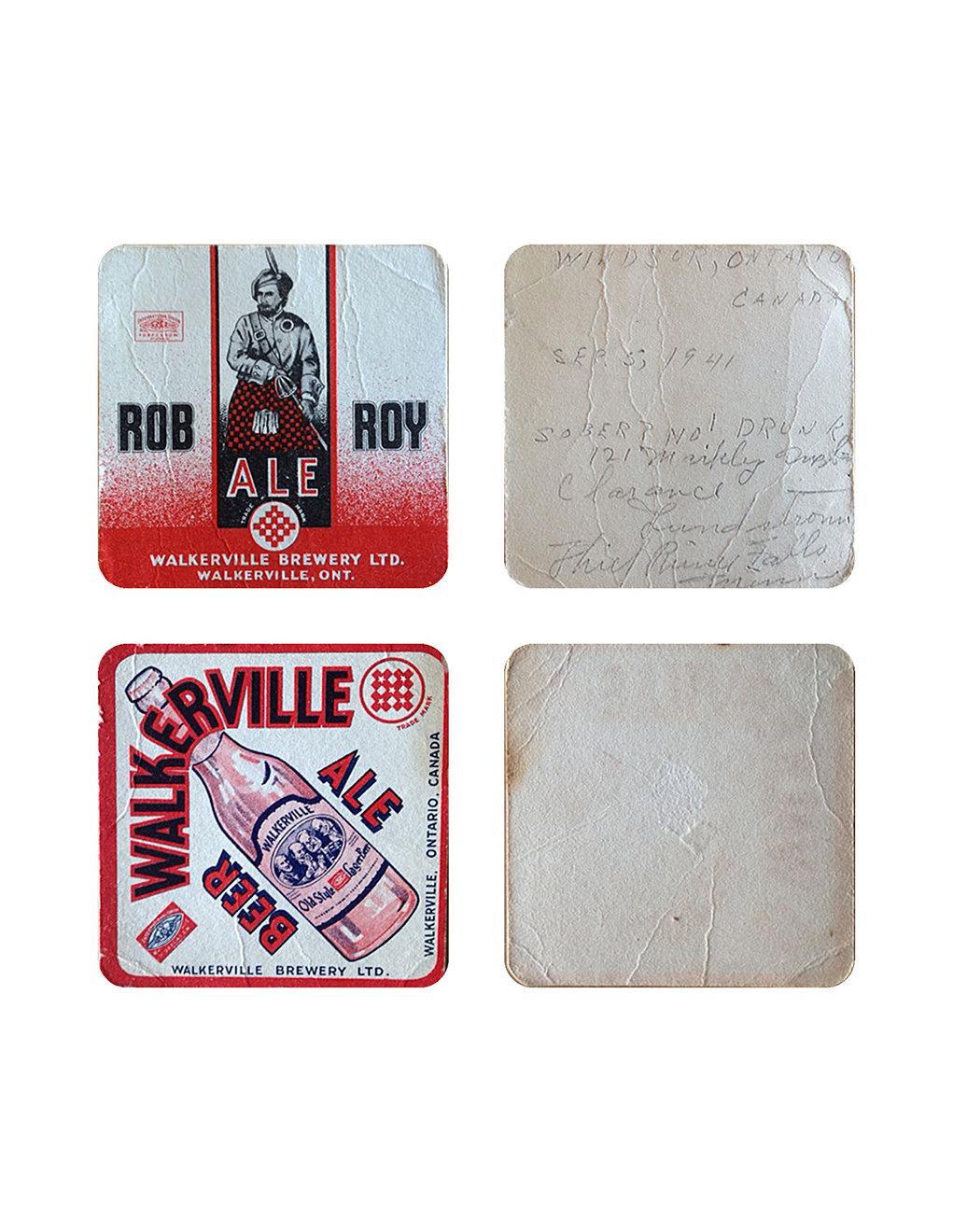 • BEER BOTTLES!!! – Mostly Molson & Carling O'Keefe 1980s.
INCLUDING WHAT MAY BE RARE PROTOTYPE LABELS/BOTTLES &
UNUSUAL BRANDS NAMES.
MANY BOTTLES STILL FULL. Some caps rusty.
Prefer to sell as a group but open to offers on individual lots.
$200.00 for the lot.
Pick up Toronto or Kingston.
BOX 1:
ST TROPEZ Beer Cooler (Carling) x1

LIBERTY LAGER (Molson) x7 Long Neck

LIBERTY LAGER (Molson) featuring Dave Nichols x1

OLSEN EXPORT (Molson) x1 (Probably a one-off tribute to the retiring brewmaster)

CALGARY (Carling) with unusual twist cap Stubby x1

BEER (General Brewing Company, BC) – Stubby x1

LOWENBRAU (Carling) 3 different bottles

TUBORG (Carling) x1 tall

BOX 2:
MILLER HIGH LIFE – Stubby – 2 different labels a) x 11 b) x 9

BOX 3:
MILLER HIGH LIFE Long neck x 11
MILLER LITE – Stubby x 5

BOX 4:
MILLER LITE – Stubby x 19 (4 different labels)

BOX 5:
OV LIGHT/OLD VIENNA LIGHT – 7 different labels/4 different labels

BOX 6:
STUBBY: BLUE x2 BUD x1 50 x 3 EXPORT x 2 CARLSBERG x1

EPHEMERA
Buckeye report cover & 1910 letter from Geneva Brewing Company
3×5" colour photos – Miller Lite Label Designs. Over 30. Some repeats.
Maybe 100 3."5×5 colour prints of various 12 & 24 packs & 6 cellophane packs – includes Old Style, Labatt Lite, Coors Light, Rainier, Black Ice, Club, Kokanee Light and many more.
Over 40 3.5'x 5 colour prints of St Tropez Beer cooler, Ice Cap Beer Cooler in 7.5" bottle.. Plus slides & negatives. Many repeats
20 colour 8x10s of various brands – 80s/90s/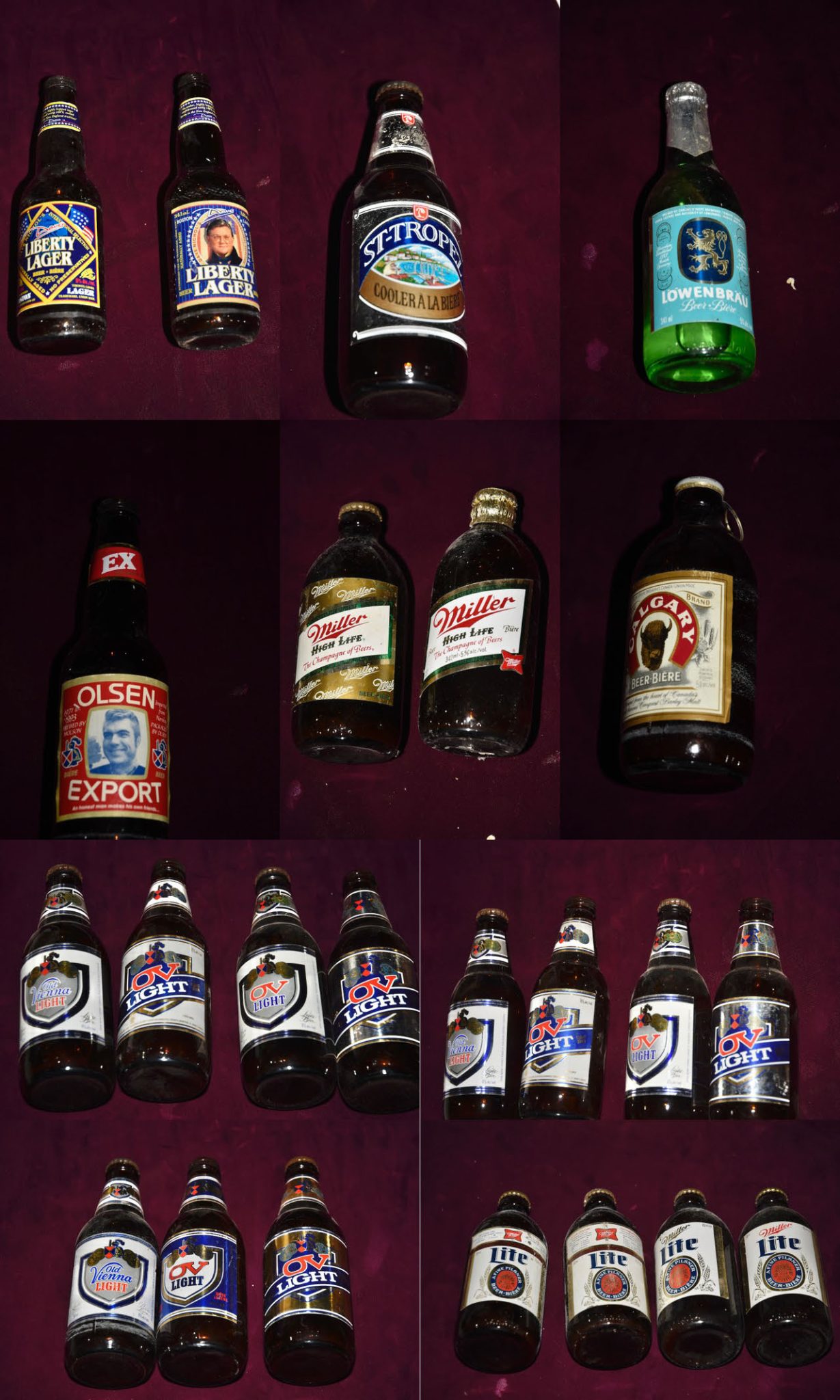 • Molson's Classic Ale: A Tribute to Eric Molson
I recently got my hands on this beer and am interested in selling it.
The label is in near mint condition, the crown is intact and sealed, and the original contents are still in the bottle. There is a stamp on the back that says "Eric H Molson May 2009."
I am willing to negotiate price. Please contact me through email: jack.hutton905@yahoo.com
or cell (preferably text): +1 469 955 0632

• Stock certificates available. Contact: roncarmstrong21@gmail.com 705-324-4855
• Hi, I'm a longtime collector looking for those who might be interested in buying my Great Western private label bottles, Saskatchewan PET bottles, crown caps, beer labels, bottle openers, key chains, etc. Pictured is a small selection.
Locality: Saskatoon, Saskatchewan
Contact: nick.krishka@sasktel.net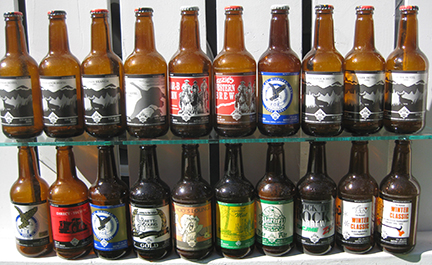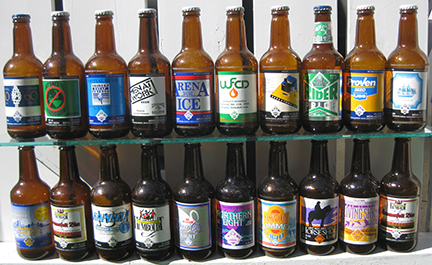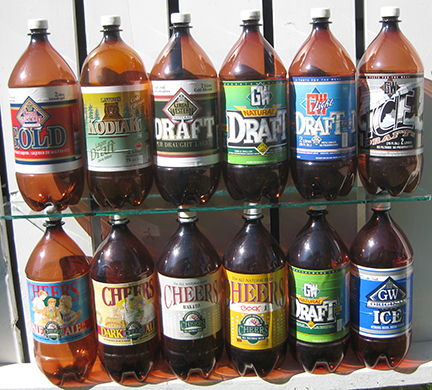 • Vintage Upper Canada Wooden Crate
Circa 1985 UPPER CANADA original wooden crate complete with 12 Lager and 12 Dark Ale long-neck full bottles as originally purchased. Sold as a collectible only – contents are not for consumption.
$100 or best offer.
Pick up only.
Locality: East York (Toronto)
Contact: Kelly pv.koshea@gmail.com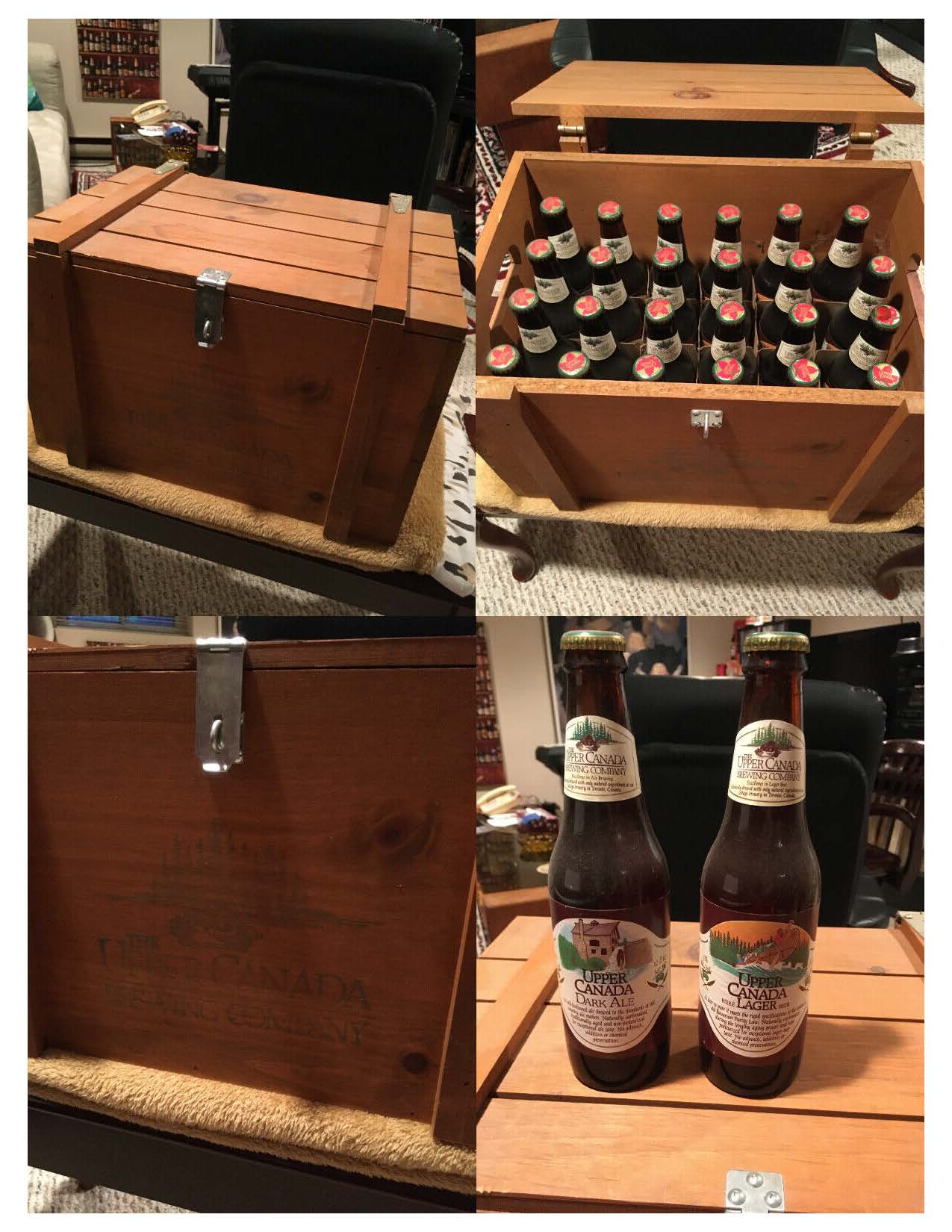 • John Labatt Classic Wooden Crates – Two Versions!!
AVAILABLE: Two different JOHN LABATT Special Extra Aged Classic wooden crates. They were released once a year in a limited edition from about 1985 to 1988 and are being sold with a full case of 24 inside. One is the long neck with green foil & one is the shorter neck. Sold as a collectible only – contents are not for consumption.
$120 per crate or best offer.
Pick up only.
Locality: East York (Toronto)
Contact: Kelly pv.koshea@gmail.com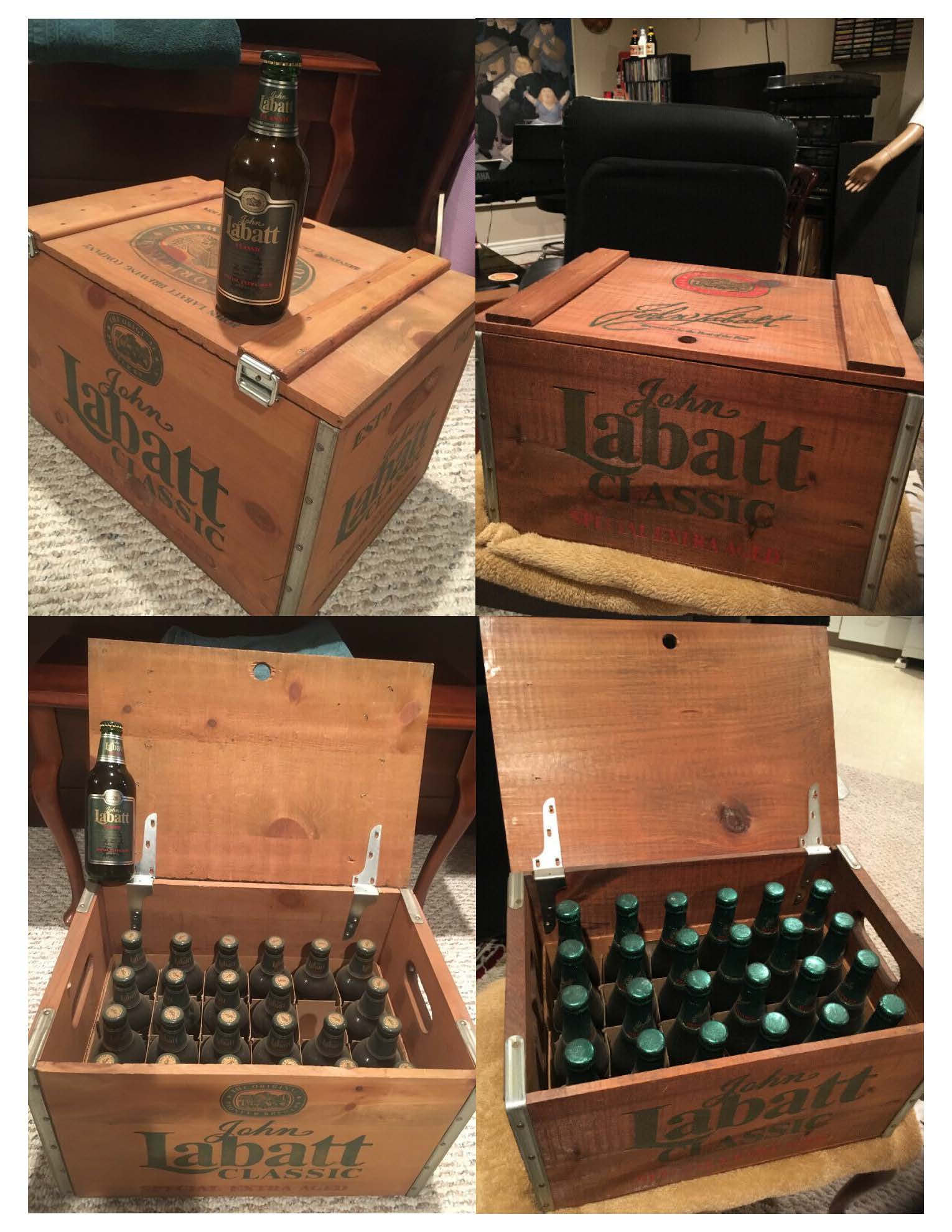 • Hello, my name is Dave. l have 22 old beer bottles -18 Labatt, 2 Molson & 2 O'Keefe.
17 of them are full & unopened. Make me an offer if you are interested. Thanks. Locality: Greater London Area Contact: ovid22@outlook.com

• Complete Crown Sets for sale. Prices negotiable.
Location: Kawartha Lakes
Contact: New Email roncarmstrong21@gmail.com or 705-324-4855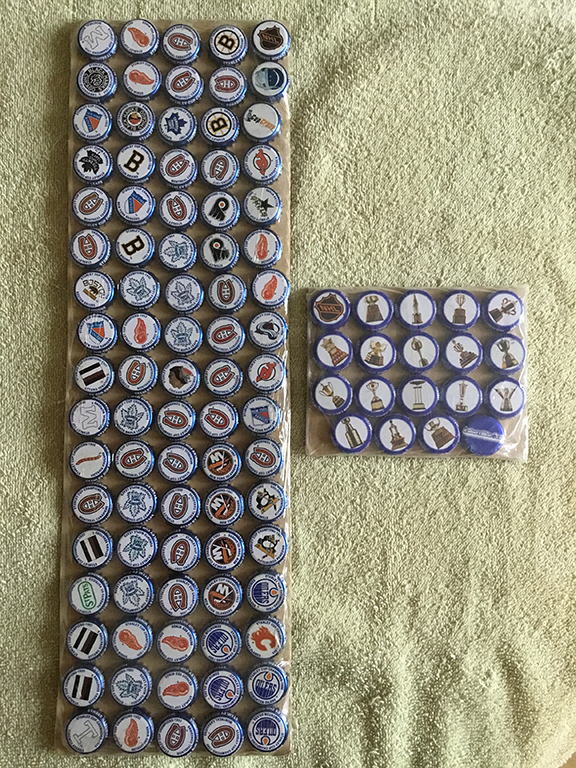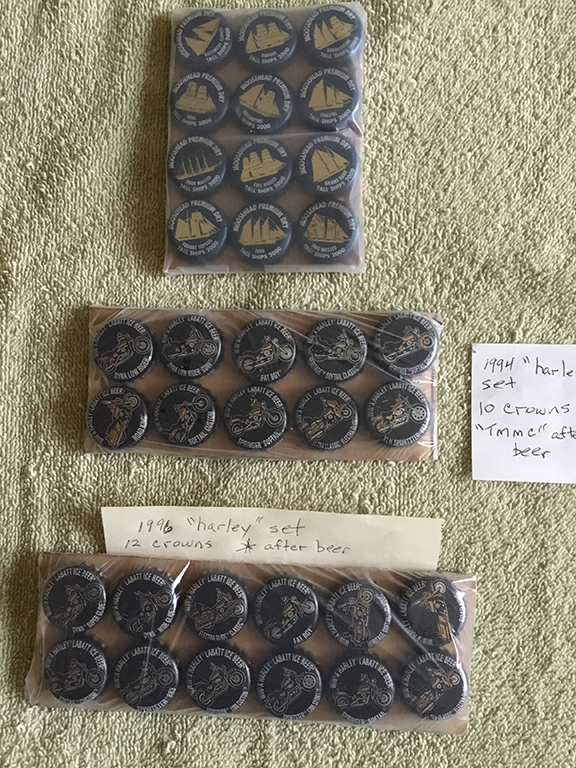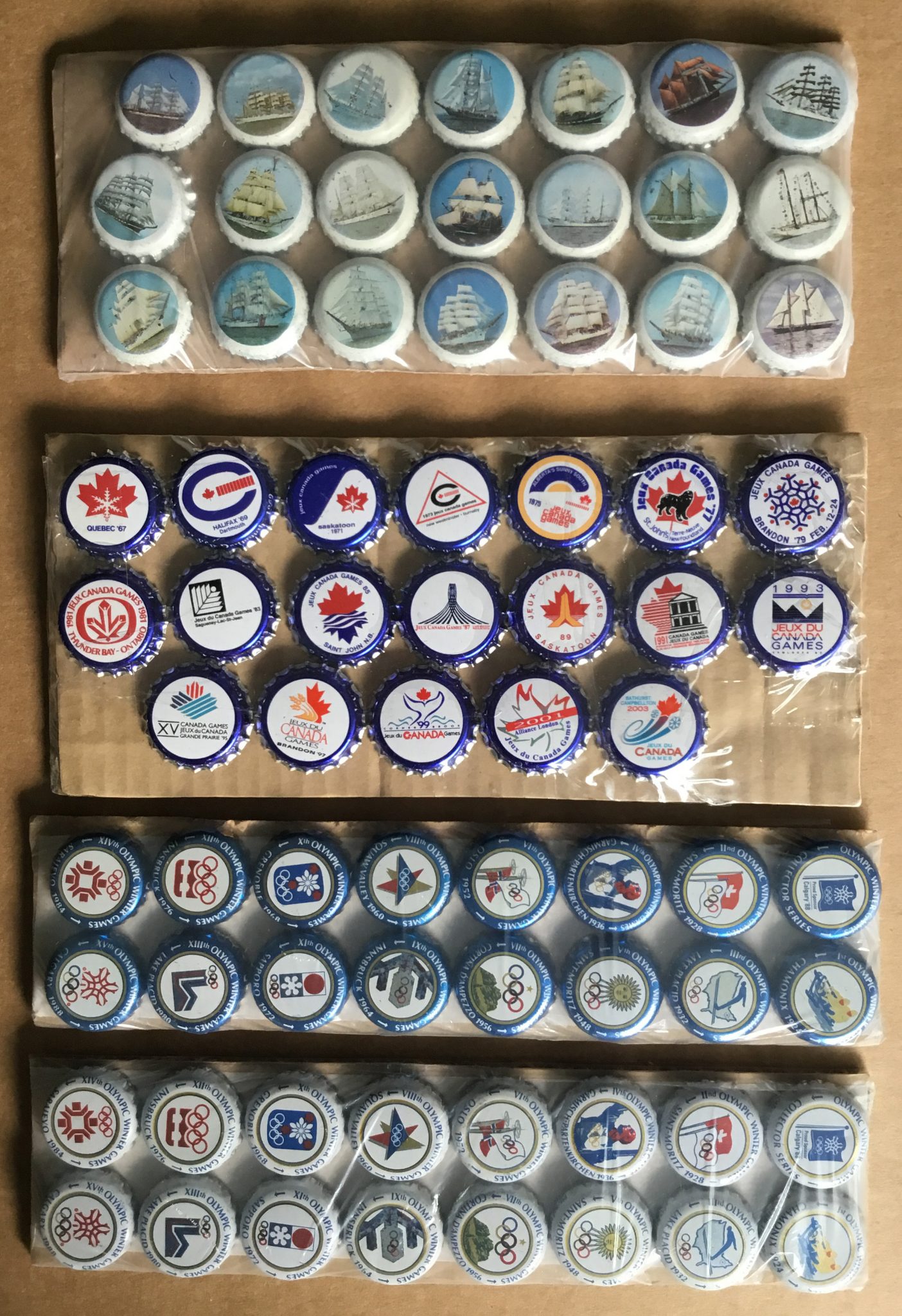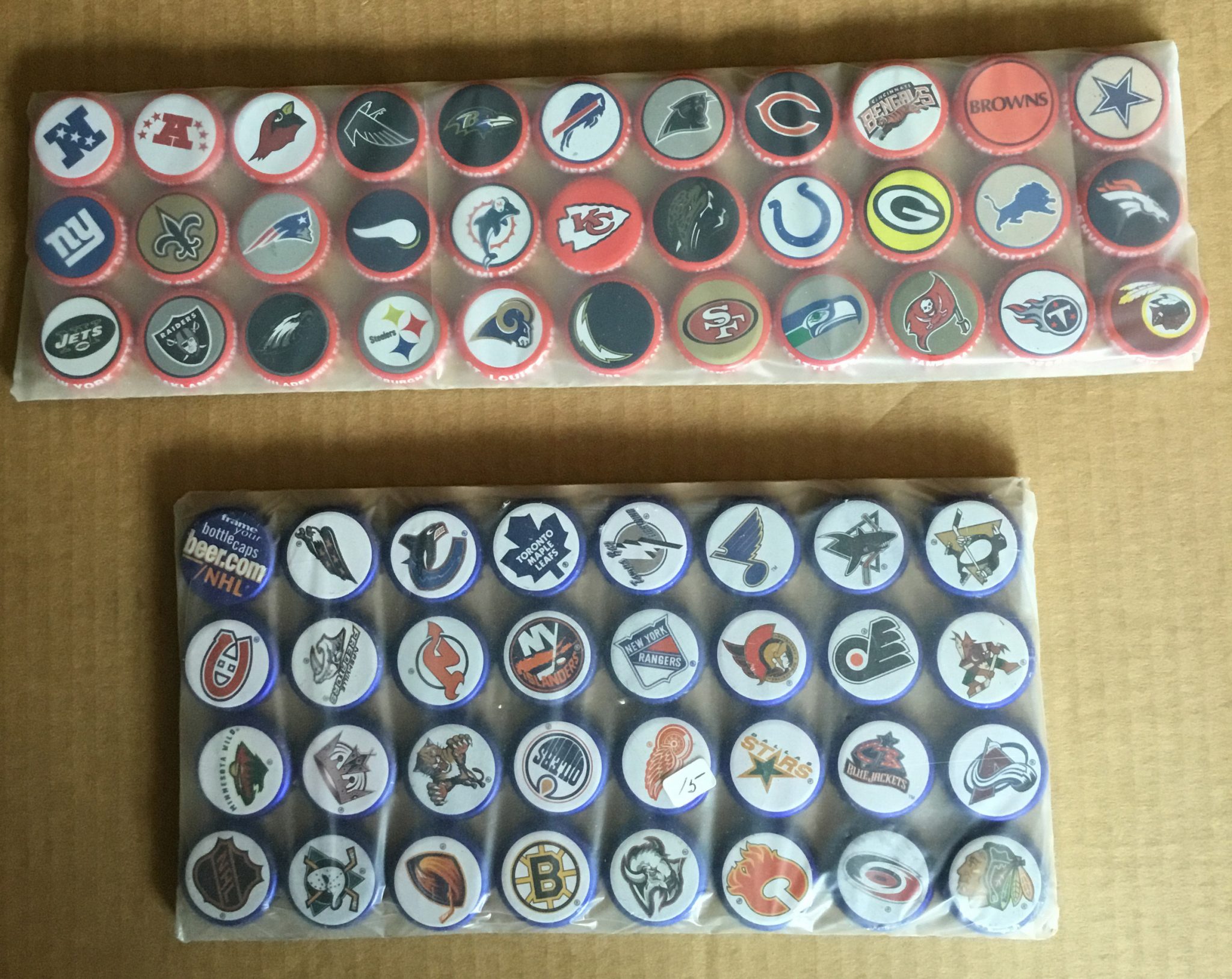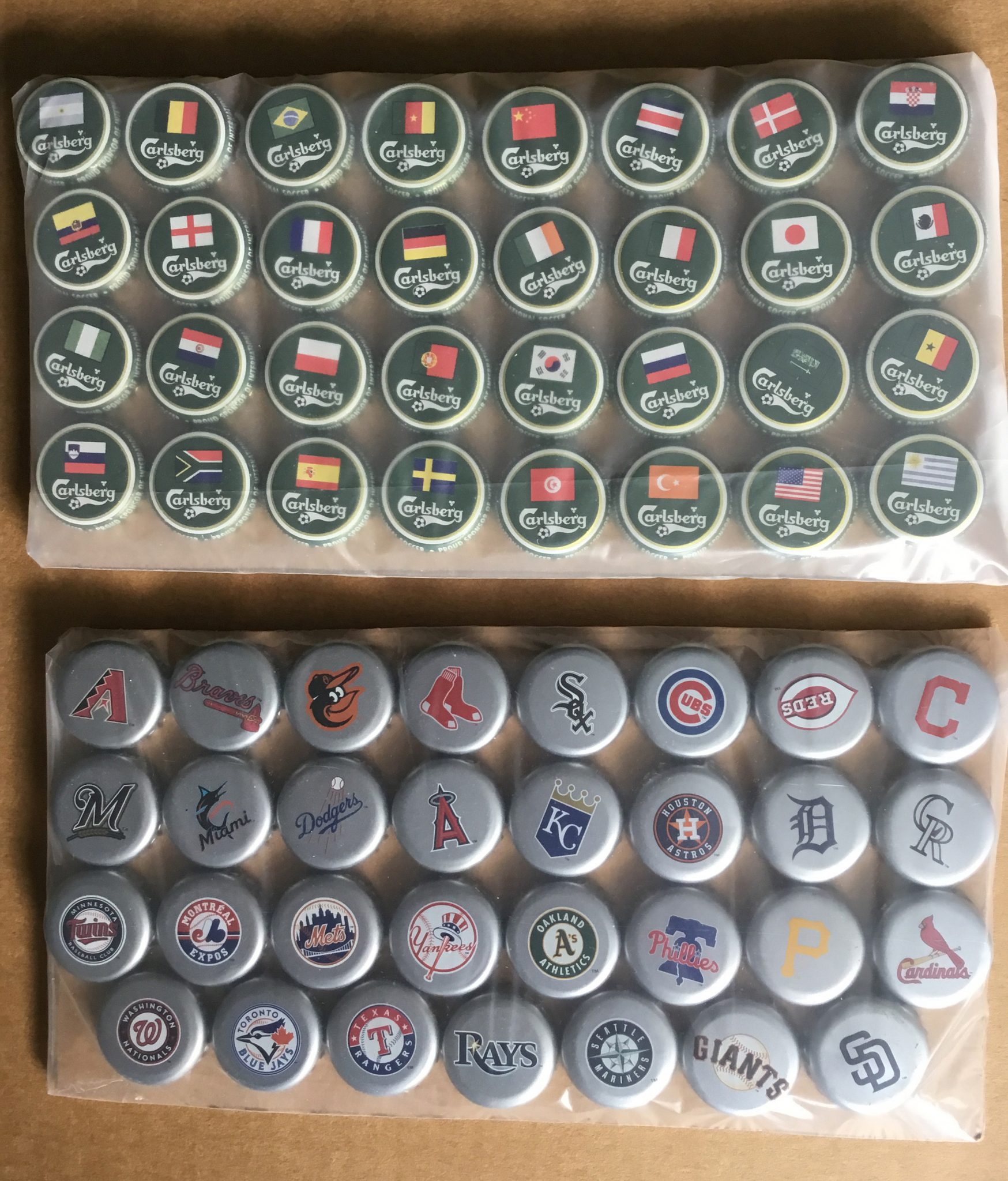 • Hi, I'm looking to trade my old black glass c.1880 Labatt Prescott brewery beer bottle. Searching for rare pre-pro brewery bottles from Québec City and Beauport. Foxhead, Beauport, Boswell, Champlain & Proteau Carignan. Pictures only for people interested. Contact: c_jirard@hotmail.com Charles G. from Québec City
• Good Day, I have Carling O'Keefe unused bottle labels, jackets, mugs, patches, literature, etc. I also have some items from the Carlsberg championship horse wagon team. The wagon was destroyed at the end of it's use, but some items were 'kept' from the bin.
I would like to see these items go to a good home.
Don Lapsch lapschd@gmail.com
• For SALE Molsons collection offered by CB #54 . I've been a collector for a long time and now have decided to sell my collection as a whole, if really interested email me at mlmcgill@sympatico.ca
• AVAILABLE!

A stunning seldom seen Frontenac White Cap Ale plaster sign
Location: Quebec City
Contact: 418-928-0614 tracey@traceyleebatsford.com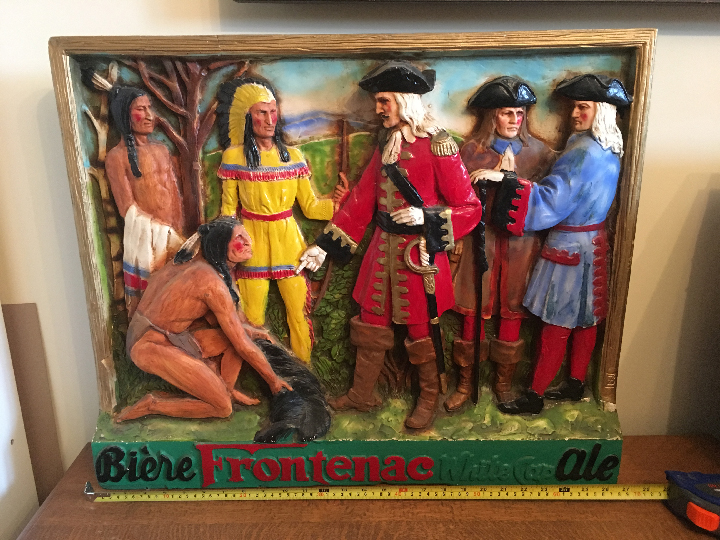 • Full Beer Bottle Collection Available. My brother recently passed away and left a collection of beer bottles to me. They are all full, unopened bottles. I have no want or use for them. I would like them to go to someone who would appreciate them.
Location: Kitchener/Waterloo/New Hamburg
Contact: Gayle Ostrom egoego@live.ca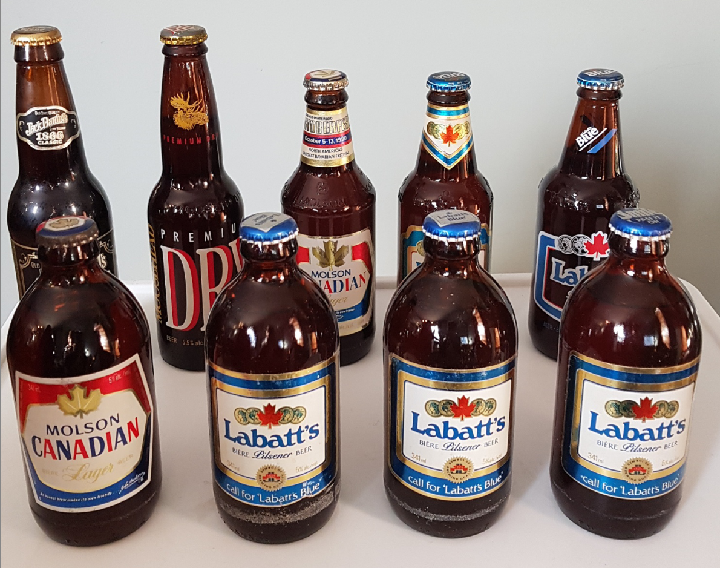 • 30 stubbies labeled beer bottles free to a good home. Condition is from poor to great, a lot of them are full. Must be picked up in Kingston, ON, but due to my traveling I might be able to drop them off. Please contact me at gbristow@cogeco.ca
• For Sale. My Canadian labelled beer bottle collection. I've extensively collected minor variations over the years. Send me an email me of what you seek.
Contact: Gord Bristow gbristow@cogeco.ca
• A Large Full Bottle Collection for Sale in part or whole. The bottles range from long necks to custom mold, stubbies & later. Examples from across Canada. List & pictures available.
Location: Montreal, Quebec
Contact: michael_graziano@hotmail.com
• 1980 45 rpm record "Here's to the Horses" Budweiser promotional song.
Contact: Judy 1-905-945-5368
• 1000 beer bottles for sale. International and Quebec microbrewery. 25 cents each.
Location: Laurentides, Quebec
Contact: Andre Paradis 819-274-2899
• 1500 beer bottles & cans for sale. International and Quebec microbrewery. $500.00 or best offer.
Location: Quebec
Contact: Jonathan 438-404-9234
• I've been collecting Beer Bottles & Cans since 1988 from all corners of the world. The collection contains close to 5000.
I would like to sell, if the offer is reasonable.
I have them all packed in boxes but they can be viewed.
Location: Ottawa, Ontario
Contact: Marc jolysolution@gmail.com
• Frontenac White Cap Ale tray for sale. A tough one in any condition. Location: Toronto, Ontario Contact: andycottrell@rogers.com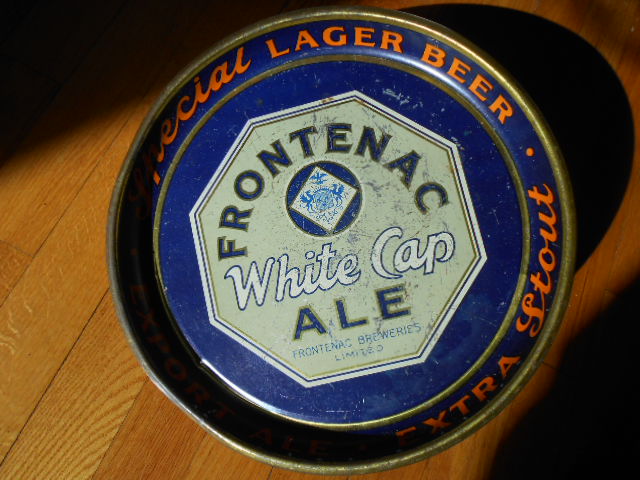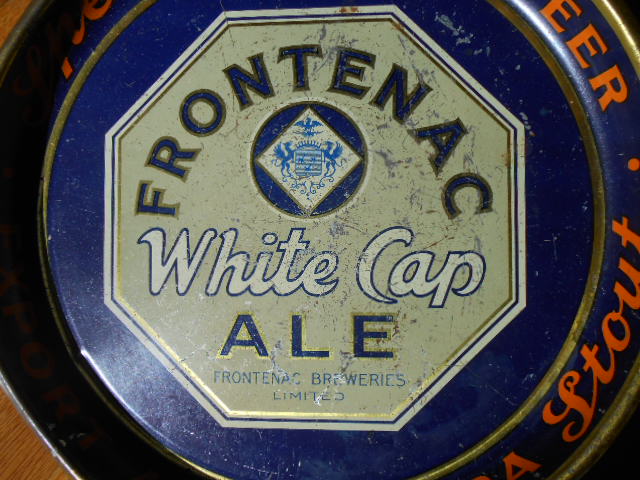 • For Sale – The attached photos show some of the Canadian vintage beer items I have for sale – stubbys, quart bottles, etc. Some are from local/regional breweries. Please contact me to get further information and brands. I would be happy to entertain any offers. The best way to contact me is by phone, 250-656-6723. Thanks. Location: Victoria, B.C. Contact: Morley geem@shaw.ca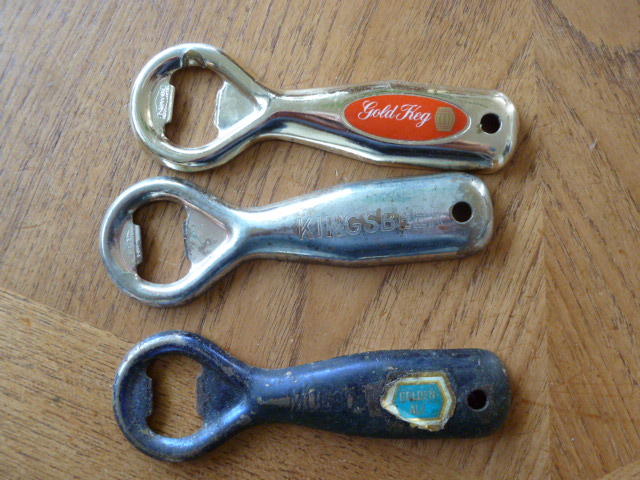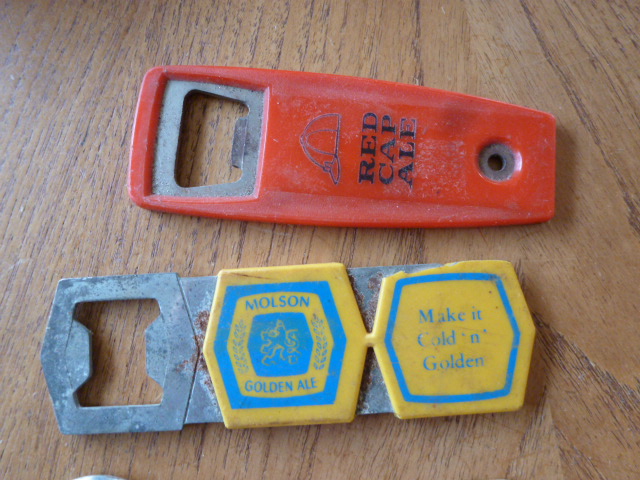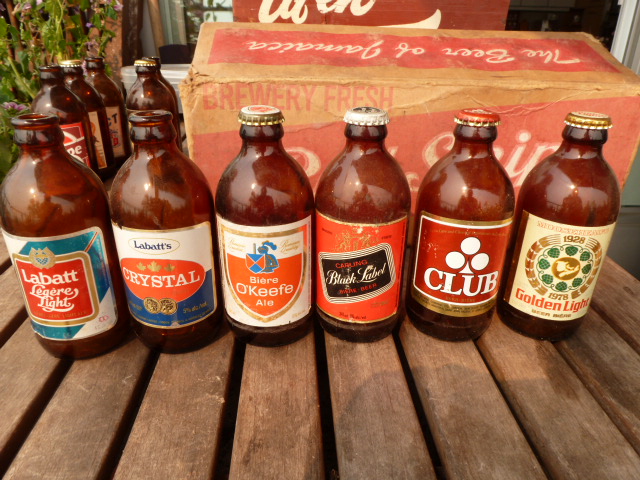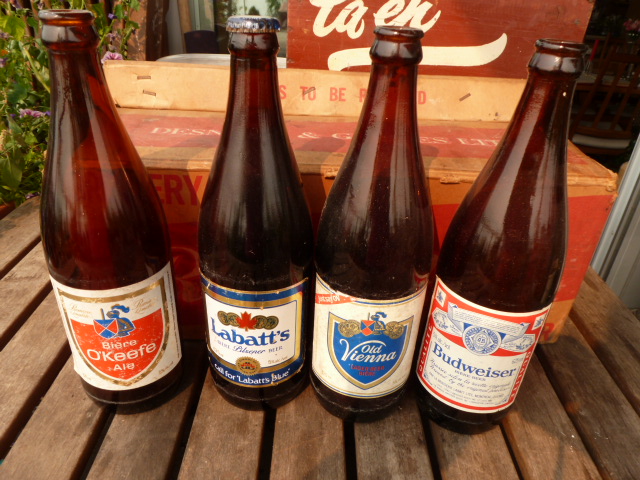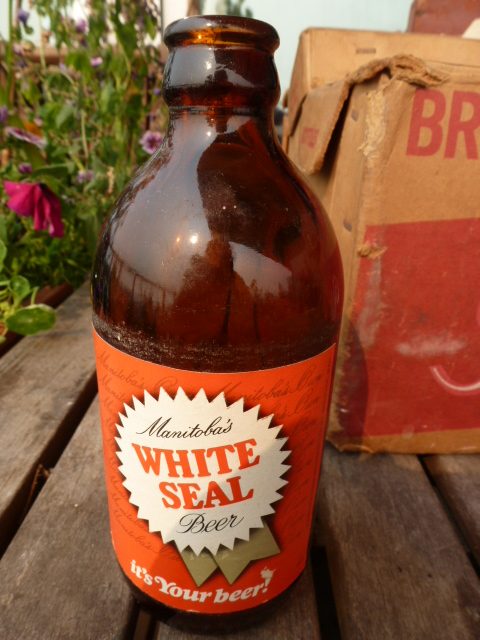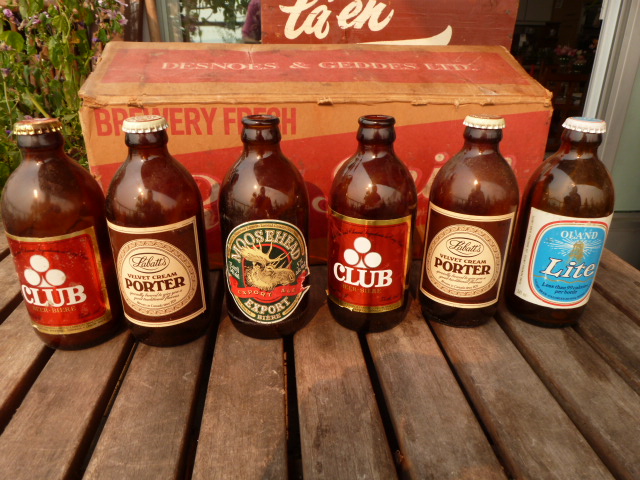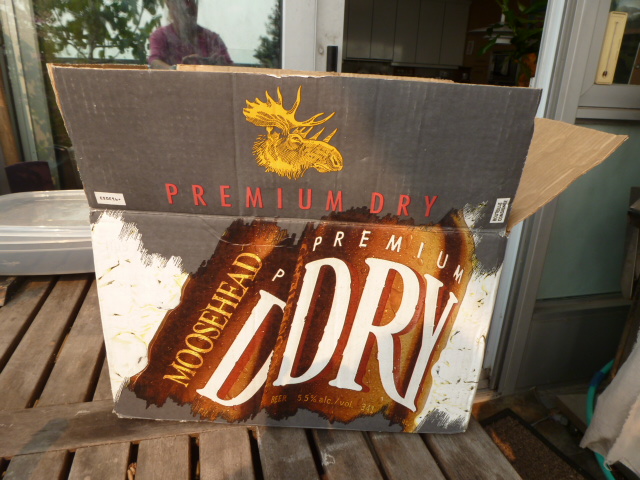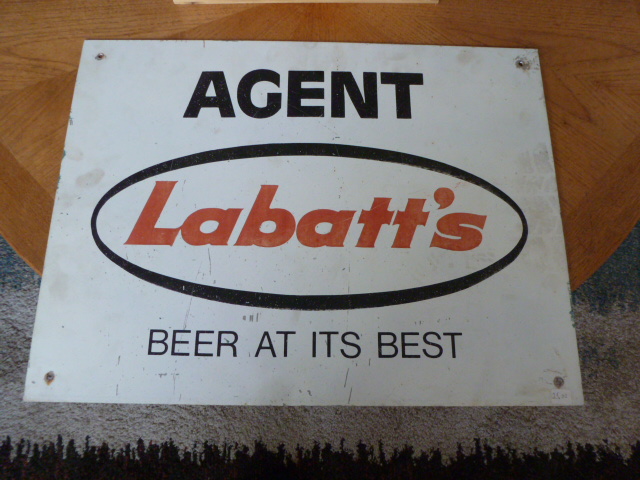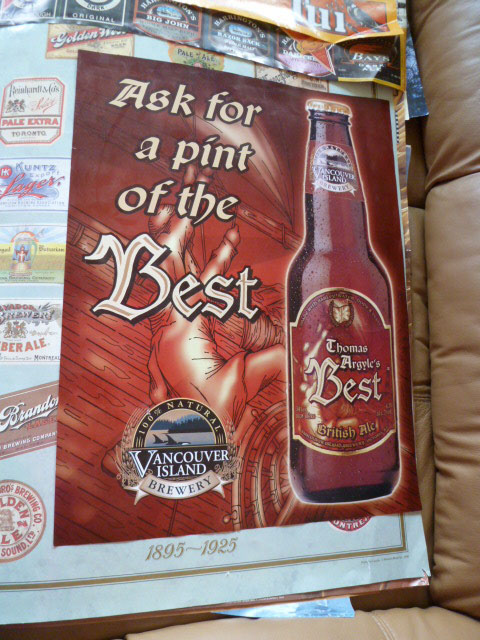 • After 44 years of collecting beer cans and beer bottles I'm looking for someone that might be interested in a collection. Approximately 4300 cans and a couple hundred bottles. If anybody in the CCBA is interested they can email me for info & pics.
Location: Saskatoon, Saskatchewan
Contact: Nick Krishka nick.krishka@sasktel.net
• Available a custom archival mounted album of approximately seventy 1950s Classic Canadian Beer advertisements from the Canadian Geographic Journal.
Location: Nanaimo, B.C.
Contact: Steve Bristerstewart bristerstewart@gmail.com