A treasure trove of early Ontario beer labels recently repatriated from Europe
Carling Brewing & Malting – 1882 – 1922
Labatt's Prescott Brewery – 1864 – 1901
John Bott's Brewery – 1895 – 1896
Holliday's Brewery – 1858 – 1916
George Sleeman's Silver Creek Brewery – 1859 -1917
————————————————————————————————————–
A surprise find in Gananoque, a 50 year old Labatt's 50 oval rocker bottle opener celebrating the 300th Anniversary of Moose Factory. Moose Factory is on an island adjacent to Moosonee, Ontario. Which is only accessible by Rail, Air, Water or Ice Road in Winter.


A heavy acid etch glass panel for Cosgrave's Toronto – Circa 1895 – 1921A pristine new old stock Labatt's reverse on glass draught sign
Amazing British Columbia brewery advertising items that sold at auction recently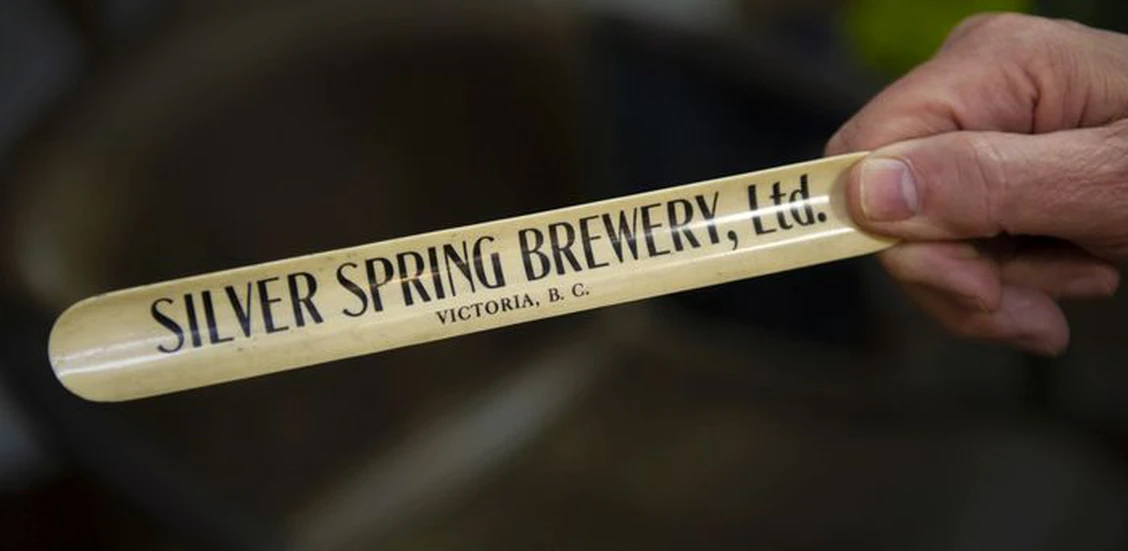 Silver Spring Celluloid Foam Scraper – Circa 1903 to 1917?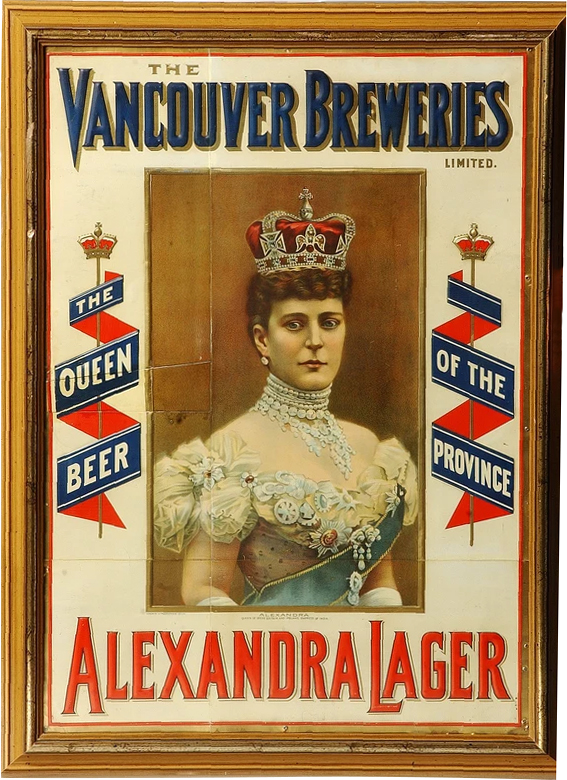 Vancouver Breweries Metal Sign – Circa 1902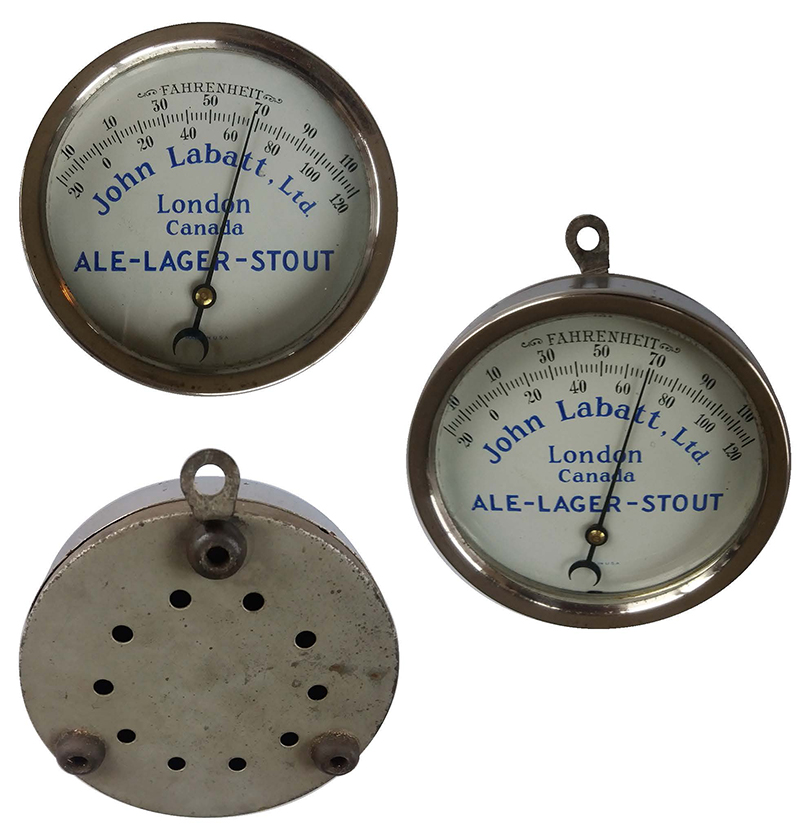 John Labatt Limited Thermometer – Circa 1920s to 1940s.
Possibly used in a tavern beer refrigerator or in the brewery cold room.
Red Ball Dark Beverage dates from New Brunswick's prohibition period (1917-1927) hence the terminology 'Dark Beverage" rather than traditional style descriptions such as Ale, Porter or Stout. The alcohol content would have been less than 2.2 % proof spirits or around 1% alcohol by volume in current measure.
George W. C. Oland purchased the insolvent Simeon Jones brewery on Carmarthen Street in Saint John for $31,000 dollars ($560,000 dollars today) in 1918 with the compensation received as a result of the destruction of the Oland & Son brewery during the Halifax Explosion of December 6, 1917.
Click the links below for further in-depth reading.
Due to unrelenting pressure on the Nova Scotia government from a then powerful temperance movement it became illegal to sell alcoholic beverages greater than 3% alc./vol. to the public after 1910.
There was however a large loophole in the new legislation in that there were exemptions on medical, artistic, industrial or religious grounds and full strength alcohol was made available through approved vendors.
Speculation is that the Keith's Medicinal Stout label was sanctioned for bottling by the Board of Vendors Commission of Nova Scotia for "medical" purposes. An adult individual need only receive a doctor's prescription to insure procurement of full strength beverages. As a consequence many physicians had very, very busy practices.
The label may date from 1910 to 1930 although most likely is from the heart of Nova Scotia prohibition 1921 to 1930.
After repeal the Nova Scotia government wasted no time setting up the Nova Scotia Liquor Commission, which flourishes to this day.

An extremely rare Bowie & Co of Brockville tin sign – circa 1880s?

Circa 1870s bottle found during old building renovation in downtown Montreal

Some interesting Toronto draught hangers from the 1930s – 1940s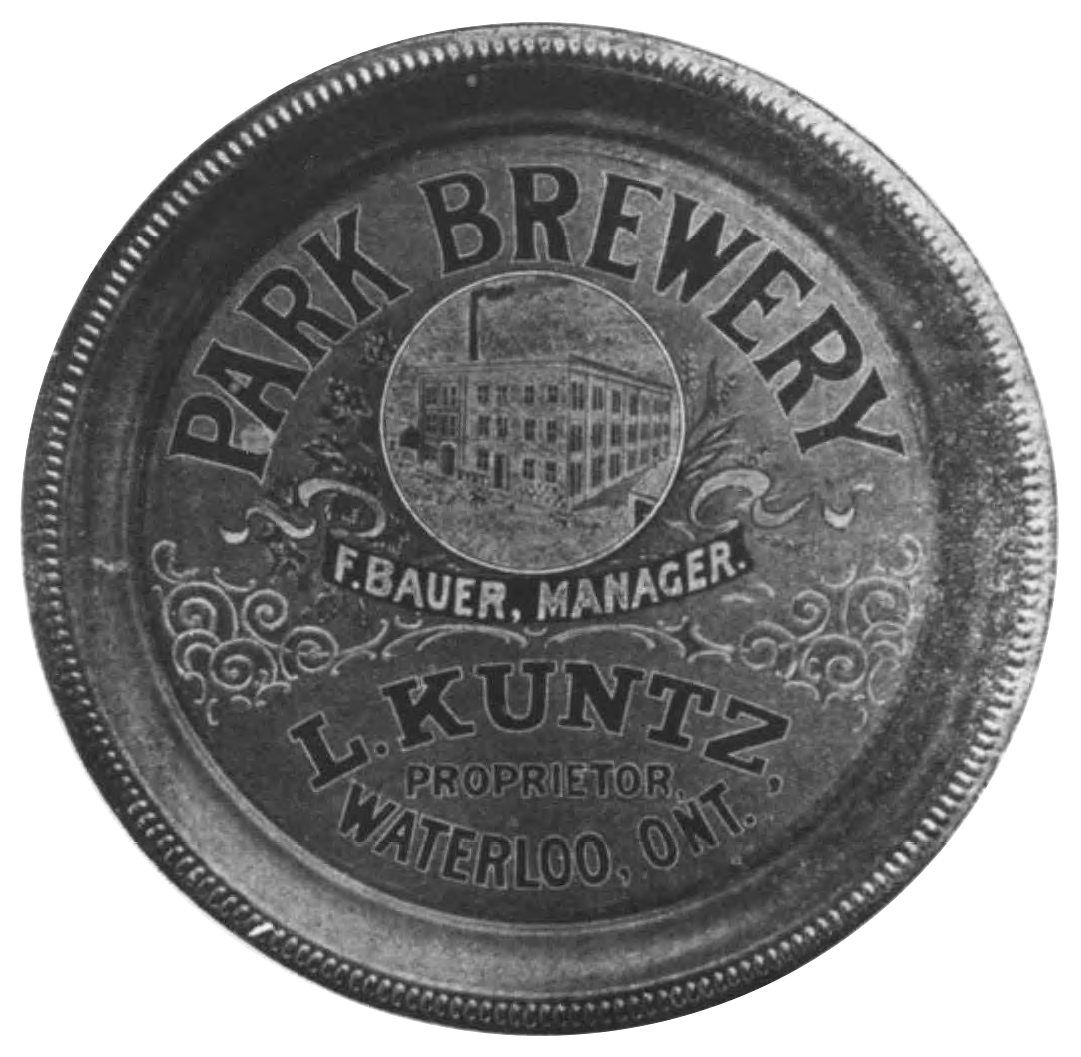 Kuntz Park Brewery Nickel Plate Tray – Circa 1896.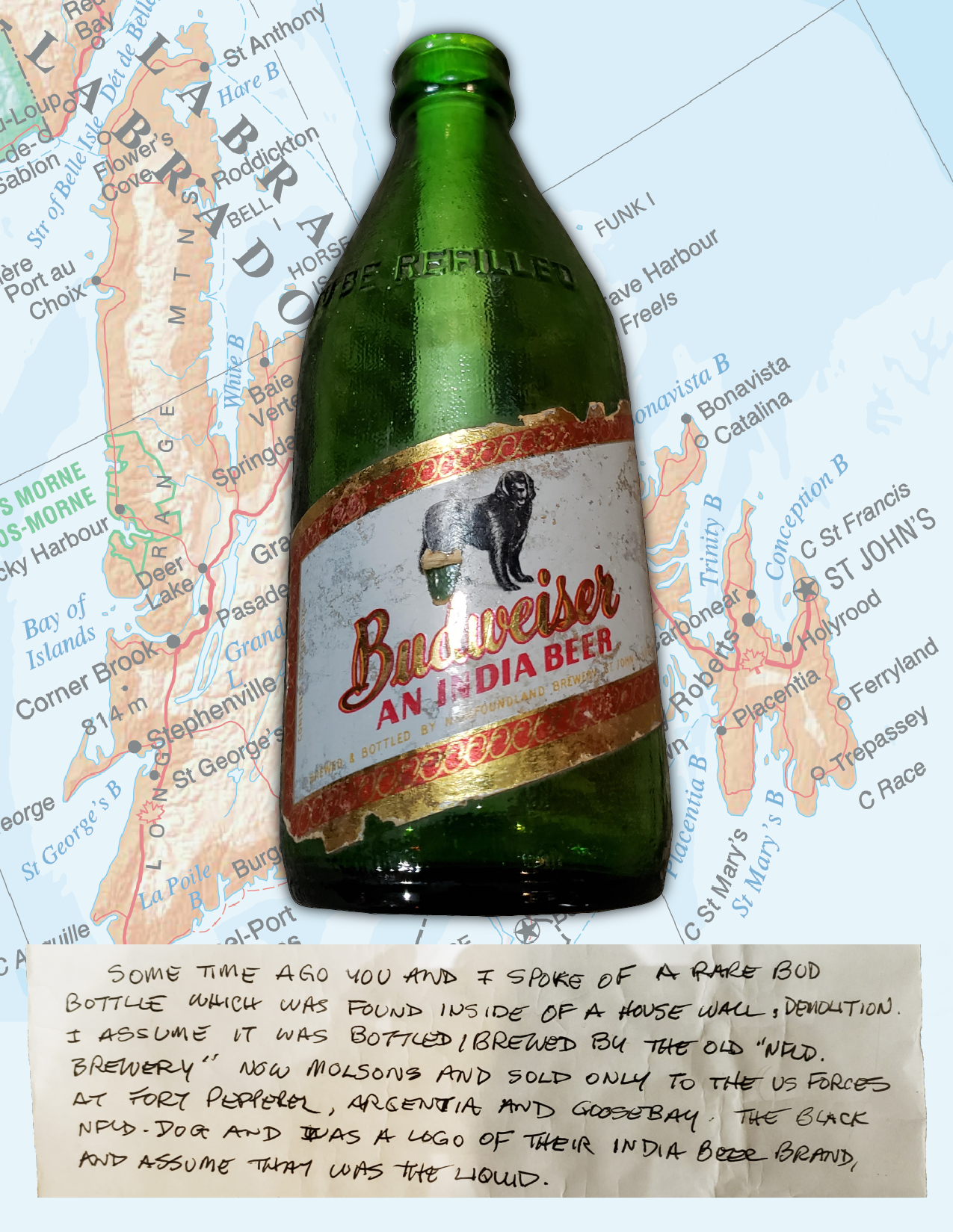 An obscure WWII Vintage Budweiser from Newfoundland Brewery Ltd.
Extremely Rare Kormann's Labels – Circa 1924 to 1927
The Davies Brewing & Malting Company Limited – Toronto, Ontario – 1883 – 1901
Beer barrel labels for rail shipment purposes – Circa late 19th/early 20th century Henry Kuntz's Dominion Brewery – Hamilton, Ontario – 1879 – 1903
A Particularly Rare Toronto Reverse On Glass – Circa 1930s
A Cosgrave's Brewery, Toronto – Trade Card – Circa 1890
A Cut Throat Razor from Ekers Brewery, Montreal – 1868 to 1935

Courtesy of Brewery Collectibles Club of America
Beer Cans & Brewery Collectibles Magazine – Issue 1 – Volume 47
A seldom seen cardboard sign from Boswell Brewery, Quebec City


A celluloid pin from the Hamilton Brewing Association – Circa 1917

An unusual printer's sample invoice from Reinhardt's Salvador Brewery featuring both Toronto & Montreal breweries. Sweet's Directory indicated the Toronto brewery used this designation from 1889 to 1917 and Montreal from 1901 to 1908.
A Very Rare Serving Tray – Silver Spring Brewery – 1897 to 1928
Carling Brewing & Malting – Pre-Prohibition Tip Tray
Cosgrave Brewery Trade Card – Circa 1924
Cosgrave Brewery Metal Sign, Toronto – Mfr: Novel Art, Montreal
"6" Sicks' Porcelain Enamel Tabletop

Lithograph Tin Sign – Simeon Jones Limited – 1903 to 1918

Lithograph – G. Reinhardt Brewery – 1864 to 1910

Lithograph – Silver Spring Brewery – 1897 to 1928

Beer Bottle Label – Manitoba Brewing & Malting Co. Limited – 1905 to 1914

Lithograph – La Brasserie de Chambly – Circa 1867
Framed Lithograph – Calgary Brewing & Malting Co. Ltd. – 1892 to 1961

Factory Scene Calendar – New Brunswick Breweries Ltd. – 1928 to 1947