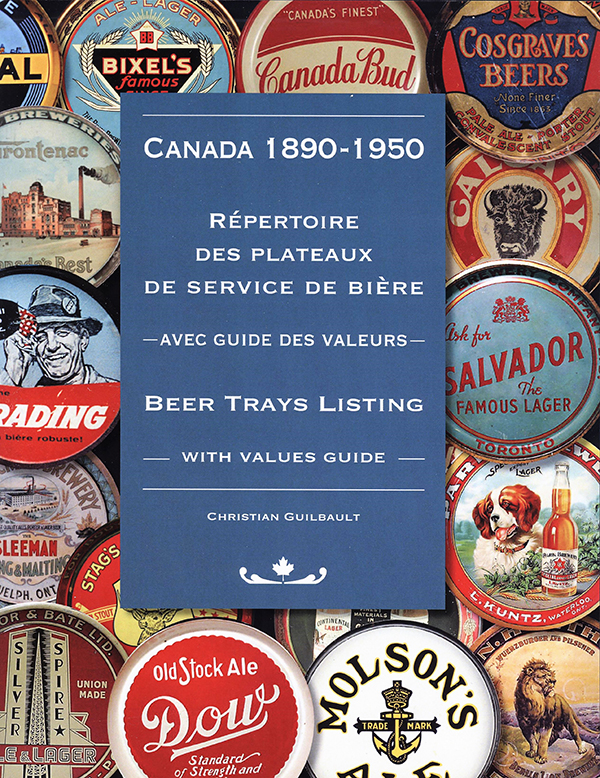 CANADA 1890-1950
RÉPERTOIRE DES PLATEAUX DE SERVICE DE BIÈRES
BEER TRAYS LISTING
Many of you have heard me promise this book for at least 8 years. It is finally ready!!! It contains all the beer trays, change trays and tray liners from Canadian Breweries since 1890 that I was able to list with the help of many of you.
The book is fully bilingual and includes a price guide.
The cost of the book is $60.
The shipping charges from Canada Post to ship it everywhere in Canada is $21.50. But there is room for 2 books in the box for the same shipping cost, meaning $10.75 per book. I can also use a bigger box and ship 3 books for a shipping cost $27 ($9 per book). So if you can combine shipping with a couple of friends, you will save a little bit more than $10 per book on shipping. Mail orders should be made via my email: christian.guilbault@videotron.ca The same goes for payment by electronic transfer.
_______________________________________________________________________
Plusieurs d'entre vous m'ont entendu promettre la parution de ce livre depuis au moins 8 ans. Il est finalement prêt!!! Il contient tous les plateaux de bière, les plateaux de change et les buvards de plateaux des brasseries canadiennes depuis 1890 que j'ai pu répertorier avec l'aide de plusieurs d'entre vous.
Tout en couleurs, le livre est entièrement bilingue et comporte un guide de prix.
Les frais d'expédition de Postes Canada pour l'envoyer partout au Canada sont 21,50 $. Mais il y a de la place pour 2 livres dans la boîte pour les mêmes frais d'expédition, ce qui réduit ceux-ci à 10,75 $ par livre. Je peux aussi utiliser une boîte plus grande et envoyer 3 livres pour un coût d'expédition de 27 $ (9 $ par livre). Donc, si vous pouvez combiner votre achat avec quelques amis, vous économiserez un peu plus de 10 $ par livre sur les frais d'expédition.
Les commandes postales doivent se faire via mon courriel: christian.guilbault@videotron.ca
Il y va de même pour le paiement par transfert électronique.